Thwip wrote:
Yeah! No kidding! I'm now compelled to see if I can find his prints on the side YOU find him on and see if he even -ever- cross connected with the side I find him on at all just to see if it's two separate pat runs or one giant one.
Tricky Dog Compels Me!
Update!: After about an hour of following Portent around, I have updated my previous map. His pat is still one giant one! No idea why I've never seen him pat across the bad side until I actually stopped long enough to find him. Ha. However, I made a nice map for everybody! (My original S Curve was way off, that's what I get for trying to make it from memory!)
I found that his prints are horrendously hard to see/find on the corrupted side of the vale. I almost lost him several times due to this. Even had to zoom into mouselook mode just to find them again. I would still recommend hunting on the better side as the prints are much easier to locate and track.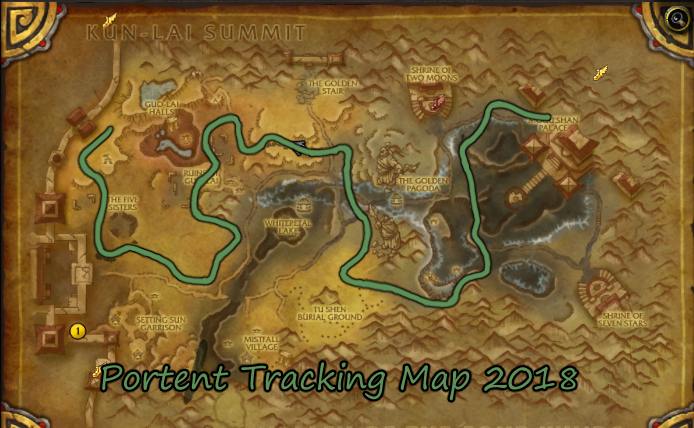 That is absolutely perfect. Sorry I missed your messages. This is a much better pat route than my initial one.
Shinryu Masaki wrote:
His path pretty much remains the same as when MoP came out, as I think Blizzard never adjusted it to the changes the Vale went through. However he spawns right next to the Mogu'shan Palace, so that's a good place to camp and throw Flares if you're not sure he's up or not. He also does spawn out of Stealth for a second or two so addons like NPC Scan and Silver Dragon will give out their alerts.

Or you can just go into Mogu'shan Vault on Heroic and tame one of the 4 guardians there, as then you get to chose which color you want instead of waiting for Portent to spawn in the correct one.
The Vault ones lack the ornamentation that I particularly like for the model so I will keep going for the Tricky Dog. Good to know about the scans though I will keep that in mind.
_________________

Jeydis on Arathor-US
Click HERE to request a Signature or Avatar from me!
~~~~~~~~~
Flight Rising Lair