Former threads:
1) Moths
2) Warp Stalkers
3) Crocolisks
4) Monkeys

Random pet family appreciation thread is where I roll a random pet family every week for everyone to share their pictures, their stories, their love for that pet family. Please no hate or rants. This is an appreciation thread. If you dislike the family, don't post! Hopefully with some love we can get some hunters to try out new pets they never would have thought to tame before.

Our fifth family is the wild wolf family!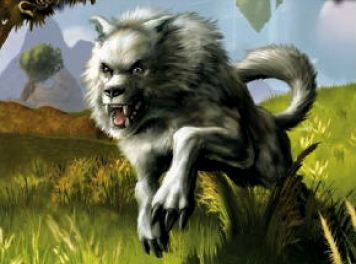 Image from WoW TCG.

Besides the cat family I don't think any other pet family will have as many facts, so here we go. *cracks knuckles*

Wolf facts

~Wolves have been tameable since Vanilla WoW.

~Wolves have four tameable models and 20 skin colors.

~Wolves have nine rare members: Barnabus, Death Howl, Deathmaw (also unique skinned), Gorefang, Lupos, Mist Howler, Old Cliff Jumper (also unique skinned), Snarler, and Timber.

~Wolves have 6 unique skinned named members, besides Deathmaw and Old Cliff Jumper mentioned above the others are: Bjomolf, Ironjaw, Ripp, and The Lone Hunter.

~Ethereal Frostworg is a unique skinned ghostly white saber worg that cannot be tamed.

~Wolves have two retired members which are Garwal and the Grimtotem Spirit Guide.

~Grimtotem Spirit Guide is the first retired wolf and the first unique skinned retired mob in the game. Released in patch 2.3.0 with the Duskwallow Marsh revamp, these ghostly wolves were summoned by Grimtotem Spirit-Shifters and lived for only 7 seconds before dieing. A large amount of haste was needed to tame these wolves before they died. While unintended to be tamed, a blue post stated:
"While this feature of the Grimtotem Spirit Guide wasn't exactly intended, it was agreed by the development team that this is a fun use of in-game mechanics, and we therefore have no plans to address this issue - it will still be possible in future for everyone who wishes to tame this NPC to do so."
However, these wolves were removed in patch 2.3.2 and replaced later with Grimtotem Spirit Wolf, an untameable version of the same skin. Those that tamed this wolf got to keep it. While Cataclysm gave us Karoma, a spirit beast with the same skin, it still isn't in the wolf family making the Grimtotem Spirit Guide distinctive within its own family.

~Garwal was probably the first appearance buff pet tamed before they became common knowledge here on the Petopia forums. Only visible during the quest Alpha Worg, Garwal turned into a worgen during fighting him at 50% health. If you finished your tame on him the second he transformed he kept his worgen look. This was a permanent buff that persisted after death but cleared if brought into arenas. Since worgen were never considered to be tameable, Garwal was quickly made untameable. Tamed Garwals lost all moves and ability to be fed, then later all tamed Garwals were replaced with a new NPCID of the Winterskorn Worg making this worgen a pet that is lost forever.

~Vargul Blighthound is a former member of the wolf family. Since Cataclysm these hounds have been moved into the dog family.

~Wolves have three different color changers, all of them being of the saber worg model.

~Back in Wrath, wolves where tamed by 21.1% of level 80 hunters, making them the number two top tamed family, being trailed by cats. (Source)

~Back in Wrath, magehunterred was the most tamed skin at 18.2%. Wolf_ghost was the least tamed at 0.6% due to being a retired pet. (Source)

~Wolves where so popular back in Wrath due to Furious Howl getting a buff at patch 3.1.0. Before Furious Howl was a party buff that could not stack with other similar buffs such as Battle Shout and Blessing of Might. It was changed to stack with these buffs, it's attack power effect was doubled, but only affected the hunter and pet. This made wolves THE raiding pet in Wrath. Since Cataclysm, wolves are still very useful raiding pets but not the dominate force they once where.

~Wolf mounts come in the dire wolf (aka worg) model and are available to horde only.

~Despite the wolf family being so large, only one mini pet is a wolf. The Worg Pup is a color changer between direwolfskindarkblack and direwolfskindarkbrown.

~Rituals of the New Moon is an inscription made off-hand that can turn the player into either a black, grey, red (coyote skin) or white wolf model depending on which book you have.

~All wolf models have two parts to them, a normal skin and an alpha skin. The normal skin covers the body while the alpha skin is the "fur extentions" plus the teeth on the model. If you remove the alpha skin it gives wolves a sleek appearance, but also leaves the wolves and dire wolves (mostly) toothless.

~The wolf and dire wolf models can interchange their skins, although their eye sizes are different and wolf skins don't have the data for the dire wolf canine teeth. Fox skins also share the same basic pattern and can be interchanged as well, but they are missing an alpha skin. The saber worg model uses a different skin pattern from the other wolf models and thus cannot be interchanged.

~Before Camouflage was fixed to show alpha parts of models, when camoed Grimtotem Spirit Guide (as well as his distant cousin Karoma) would go completely invisible! This is because the ghost wolf model doesn't have a normal skin, only an alpha skin.

~Two wolves have permanent appearance buffs. Oil-stained Wolf can keep its dark oily coat and The Lone Hunter can keep the knife in its head. Ouch!

~Four wolves make noises when you click on them after being tamed, these are Bloodaxe Worg Pup (growls), Deathmaw (growls), Prairie Wolf (barks), and Spot (barks).

~Both the wolf model and saber worg model have a rarely used howl idle animation, but only the wolf model has an audible howling sound with the animation. The only wolf that doesn't have an audible howl is the ghost wolf.

~Pvpridingdirewolfskindarkblack is one of the few pet skins that has armor and the only wolf with armor. It matches the Black War Wolf mount perfectly.

~Spot is a pet wolf found in the alliance city of Theramore that can be tamed by horde only. Rema and Glopgut Warhounds are tameable only by alliance; the first being friendly to horde and the second spawning from an alliance only quest.

~Ghost Howl is a semi-rare mob. While he doesn't have a rare silver dragon around his portrait, he has a rare-like spawn timer.

~Timber is the lowest level tameable rare in game at level 5. However, you still can't tame him until level 10.

~Many wolves had unique traits in Vanilla WoW. These where:
Lupos did shadow damage on melee attacks instead of physical damage.
Snarler had 100 of each resist.
Longtooth Runner and Frostwolf had fast pursuit speeds and could chase down epic mounts.
Wolves with faster than 2.0 attack speed where Vilebranch Raiding Wolf (1.7), Bloodaxe Worg (1.5), Prowler (1.5), Prairie Stalker (1.5), Prairie Wolf Alpha (1.4), Ghostpaw Alpha (1.3), Mist Howler (1.3), Deathmaw (1.2) and Slavering Worg (1.2).