Former threads:
Moths - Warp Stalkers - Crocolisks - Monkeys - Wolves - Core Hounds - Wasps - Dragonhawks - Turtles - Boars - Carrion Birds - Bears - Serpents

Random pet family appreciation thread is where I roll a random pet family every week for everyone to share their pictures, their stories, their love for that pet family. Please no hate or rants. This is an appreciation thread. If you dislike the family, don't post! Hopefully with some love we can get some hunters to try out new pets they never would have thought to tame before.

Our 14th family is the extravagant tallstrider family!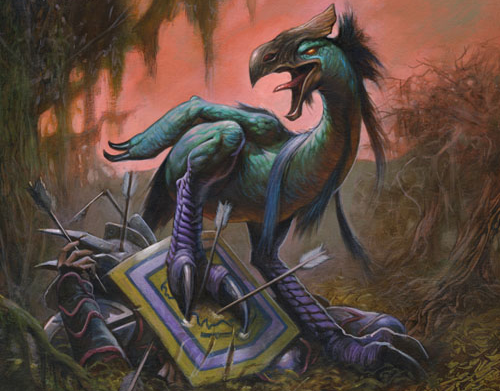 Image from WoW TCG.

*explodes in glee that she rolled her favorite family*

Tallstrider facts

~Tallstriders have been tameable since Vanilla WoW.

~Tallstriders have six different skin colors.

~Tallstriders have two rare members which are Mazzranache and Strider Clutchmother.

~Mazzranache and Strider Clutchmother used to be unique skinned named rares of the tallstrider family. Since Cataclysm common mobs where also given their skins, so now tallstriders have no unique skinned named members of the family.

~Back in Wrath, tallstriders were tamed by 0.4% of level 80 hunters. Placing them near the bottom at number 19 on the list, tied with carrion birds, hyenas, and silithids. (Source)

~Back in Wrath, tallstriderskinpink was the most tamed skin at 53.2%. Tallstriderskingrey was the least tamed skin at 2.4%. (Source)

~Tallstriders special ability Dust Cloud used to cause enemies within 10 yards to miss their next melee attack. This worked on all bosses so some raiding guilds did use groups of tallstriders for hard hitting heroic boss fights.

~Tallstrider mounts are a recent addition to WoW introduced in patch 4.3. These four mounts are Swift Forest Strider, Swift Lovebird, Swift Shorestrider (TCG loot mount) and Swift Springstrider.

~Mulgore Hatchling is the only minipet tallstrider. It matches perfectly with tamed tallstriders using tallstriderskinpink.

~Tallstriders received many new animations in 4.3 with them becoming mounts. They now share animations with Hawkstrider mounts. Unfortunately tallstriders lost their old goofy head bobbing run animation.

~Deviate Plainstrider was one of the two "fire pets." This was a permanent appearance buff from the quest Sowing the Solution which one of the quest item's outcome was the pet burst into flames, creating a very unique pet that was a patch of fire. Since hunters tame beasts and not fire, also because this pet was untargetable by clicking, this was hotfixed shortly afterwards and all fire pets returned to their normal tallstrider/raptor look.

~Goodie is an alliance NPC's pet that is tameable only by horde.

~Ornery Plainstriders had 1.3 attack speed in Vanilla WoW.

~Strider Clutchmother is the best pet-oh sowwy how did this get in the facts section...