Former threads:
Moths - Warp Stalkers - Crocolisks - Monkeys - Wolves - Core Hounds - Wasps - Dragonhawks - Turtles - Boars - Carrion Birds - Bears - Serpents - Tallstriders - Worms - Dogs - Ravagers - Shale Spiders - Sporebats

Random pet family appreciation thread is where I roll a random pet family every week for everyone to share their pictures, their stories, their love for that pet family. Please no hate or rants. This is an appreciation thread. If you dislike the family, don't post! Hopefully with some love we can get some hunters to try out new pets they never would have thought to tame before.

Our 20th family is the elusive spirit beast family!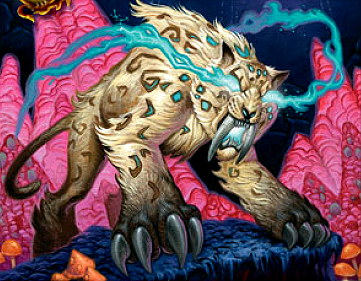 Image from WoW TCG.

Spirit beast facts

~Spirit beast were introduced as an exotic tameable family in Wrath of the Lich King.

~Spirit beasts come in nine tameable skins.

~All spirit beasts are rare creatures.

~All spirit beasts are unique skinned named members, except Karoma which shares his skin with the now retired Grimtotem Spirit Guide.

~Two unused skin concepts for Skoll still exist in the database as spectralsaberworg_mid (grey) and spectralsaberworg_light (light blueish-grey).

~Back in Wrath, spirit beasts were tamed by 7.1% of level 80 hunters. Placing them at number three on the list of most tamed pet family. (Source)

~Back in Wrath, four spirit beasts were tameable. Gondria was the most tamed spirit beast at 33%, followed by Loque'nahak at 26%, Skoll at 21%, and finally Arcturis at 20%. (Source)

~Spirit beasts formerly had Spirit Strike, which had the same animation and effect as the druid spell Moonfire.

~While no mounts share the same model as tameable spirit beasts, a few spectral mounts match the ethereal looks of a spirit beast.

~Like mounts, no minipets share the same model as tameable spirit beasts, but again their are incorporeal minipets such as the Celestial Dragon and Spectral Tiger Cub that go well besides a spirit beast.

~Loque'nahak was the first spirit beast introduced in game. He is known as the Mate of Har'koa, the snow leopard loa of the Drakkari trolls. He seems to be a bit lost being a few zones away from her in Sholazar Basin, or maybe he escaped from Zul'drak as his mate is now chained up by the trolls and their children have become twisted and cursed. Loque, as he is commonly known, is one of the two non-ghostly spirit beasts, has a unique loud roar, and is the only spirit beast included in the achievement Frostbitten so he is sought out by hunters and non-hunters alike.

~Gondria, the second spirit beast introduced, has no lore in game to explain her existence unlike Loque'nahak. She is a fully incorporeal spirit beast with a pale purple frostsaber skin. She was the most tamed spirit beast in Wrath probably due to that she spawns in parts of Zul'drak that are rarely visited by players, so she was less likely to be killed by passerbys.

~Skoll, the third spirit beast introduced in game, is the other non-ghostly spirit beast and the first spirit beast that wasn't a cat. While Skoll has no in-game lore he is based off of Sköll from Norse mythology, the wolf that chases the sun through the sky.

~Arcturis, the fourth and the last spirit beast introduced in Wrath of the Lich King, is the only bear spirit beast tameable. His name is based off of the star Arcturus, which derived from the Greek word άρκτος, meaning "bear." He is also the lowest level spirit beast at level 74 and has one spawn location, making him a popular target for low level BM hunters for their first spirit beast. However, to compensate for his one spawn point his spawn timer is unusually long and is variable, estimated anywhere from 6 to 24 hours!

~Ghostcrawler, the crab spirit beast, was one of the two spirit beast introduced at the start of Cataclysm. He is named after Lead Systems Designer and well known blue poster on the WoW forums Greg "Ghostcrawler" Street. Due to Ghostcrawler spawning in a literal abandoned area of the game called the Abandoned Reef, and with his Nerfbat ability making him extremely difficult to kill he is one of the easiest spirit beasts to find. He does phase in and out while he patrols his spawn path, so always check twice. He might have been invisible while you swam over him.

~Karoma, the other spirit beast introduced at the start of Cataclysm, seems to be compensation for those hunters that missed out on the retired Grimtotem Spirit Guide, using the same distinctive ghost wolf skin. He is the only hostile spirit beast that will attack players on sight. Also before Camouflage was fixed to show alpha parts of models, when camoed Karoma would go completely invisible!

~Ban'thalos is one of three spirit beasts added in patch 4.2. He is the first and only bird spirit beast, modeled heavily after the Owl Scouts from Warcraft III. The trick to his tame is that he flies very high. A hunter must survive the fall as well as his Harsh Moonlight attack to have a successful tame.

~Ankha and Magria are the other two spirit beast added in patch 4.2. These spectral frostsabers share spawn timers, so only one can be up at a time. Once spawned they run quickly around the Regrowth in Mount Hyjal. Their trick tame is that their attack, Metal Cleaver, does more damage the more the target's armor rating. To survive the tame a hunter must strip all their armor. Their skins where formerly unused skins for Gondria in the database. Ankha is a greenish-white while Magria is a deep blue.