Thank-you for the suggestions!
I already shared screenshots, but so far Sol has a
tan wolf
,
black boar
,
yellow kodo
and
lightforged talbuk
(aka regular talbuk).
Only the wolf has a name, and it's named 'Dog'.

I'm at a loss for names for Sol's pets rn.
I adore the old boar animations, and for some reason the black one stuck the best for Sol. I'm not sure if I'll swap it out for a different colour eventually, but I've tried a few so far and black is my favorite. I'm not
too
strict on the Lightforged palette, but unlike several of my hunters, I do want him to have
largely
more natural colours. I'm definitely grabbing him a greater/Draenor
boar
.
I'm also
definitely
planning on grabbing goats and clefthooves, so I like that suggestion. I'd like him to only have one of these guys, so I'll have to see what I like once he's in Draenor. I might try an Outland clefthoof once he's in that level range, though.
He'll probably have several goats, and it's possible I'll even give him two of the same colour. Heck, maybe I'll give him enough goats for a small herd. I'll have to see which colours I like once I can get Sol near them in game.
As for plans, so far I plan to grab him a
brown yak
and maybe a
tan yak
too. I also want to grab him a musken, but the one I like the most for him (the
tan one
) isn't tamable.

I might settle for
brown
, but I have that guy on my dwarf already. I don't mind having the same skin on different hunters, but the whole reason I have so many hunters is to play around with lots of different skins. (As an aside, the
black musken
is absolutely gorgeous, and my pandaren hunter sports him.)
Pandaria again gives me inspiration for Sol's tames: mushan. I'm not sure which colour I'll grab for Sol yet, but I'm actually thinking about the
green one
to bring in more variance in colour.
I'll give the riverbeasts a shot, but the mouth on that model drives me insane, which is a shame, because they come in such nice colours.

I'll also grab that tan talbuk while Sol is in Draenor, and maybe an Outland or Argus talbuk too. Maybe he'll have a talbuk herd instead of a goat herd. Hmmmm.
I like the gazelle suggestion too; I was tempted to tame one while I had Sol in Mulgore (a friend flew me over). Encroaching on horde turf certainly puts Sol at a greater risk to be ganked.

Speaking of, I actually did take Sol to the Northern Barrens (riding a water strider up from Theramore) to tame a
tallstrider
with the idea of making it a 'chicken'. Even though I love tallstriders, I just didn't like the look of one with Sol. (Note: I didn't get ganked, although some horde did stop and stare at me blast through their questing zones.) I'm actually thinking of making Sol's 'chicken' a
teroclaw chick
.
Now, here's where my ideas start to get a bit
more
unusual. Sol is a lightforged draenei. There's two parts to that, and one of them is the draenei part. Draenei seem to be pretty skilled engineers and like to make constructs, so I've actually seriously been considering mechs for Sol.
A gold arachnodrone could help him around his farm:

(It could even be 'light-infused')
And a robot sheep seems obvious:

And so does a robo chicken:

Which seems to be getting a pretty rad update in BfA: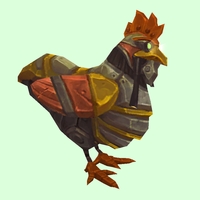 I also thought about grabbing
Fenryr
once Sol is leveled up and geared up, since he's got this kinda-light infused vibe to him.
Of course I'm sure all of this will change once I get him to the levels needed to tame these things.