A bit late, but here's my report on my egyptian pets with Nerdanel (took me some time to level to 40 to tame the serpent).
I named all my pets after egyptian gods to fit in the theme.
The first pet I tamed was Osiris: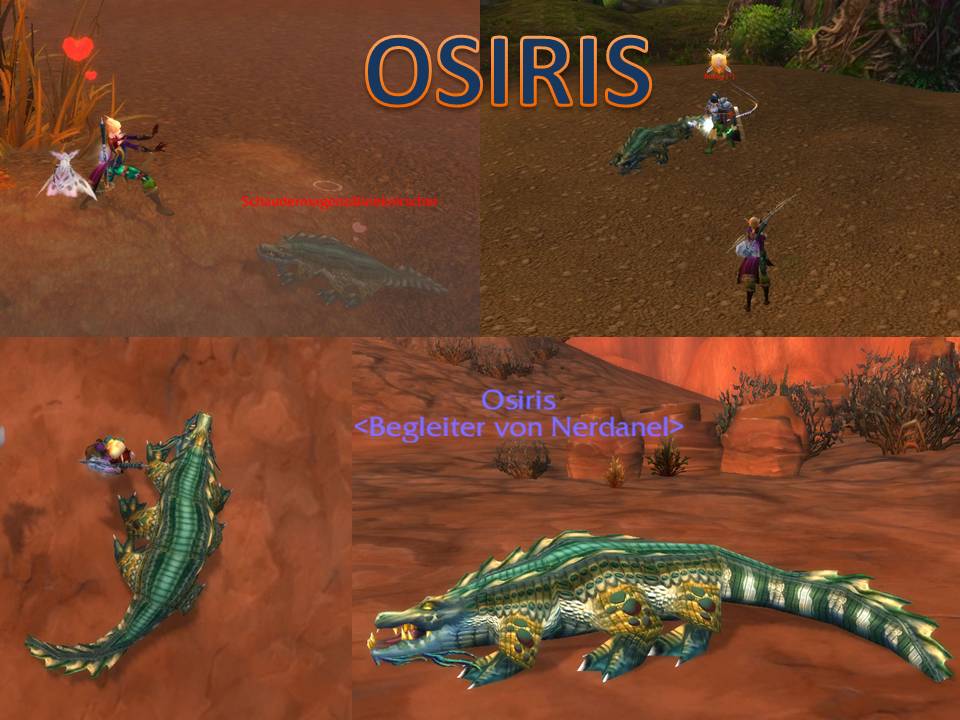 Osiris is a green crocolisk. I found him in the middle of Durotar (near the bridge to the barrens). He is a vanilla croc and looks a little bit like these asian dragons with his narrow maw.
I like his colours. They reach from a mossy green over yellow to a beige and white tone. His skin is very detailed with little spots and stripes and scales. I wouldn't have expected so many details on a vanilla pet (his dev must have loved him totally).
Osiris is a tenacity pet and Nerdanel took him to do quests with her at first. He was the first pet to hold aggro on her level (now 40), normally all mobs turned on her rather early in a fight and tried to eat her face off. But Osiris' ability to slow down the enemies was really nice and I think it helps him to hold aggro. Then Nerdanel and Osiris went to a Warsong together. He slowed down rogues, warriors, etc really good - once he reached them. This was the only problem I had with him. The other pet talent trees have an ability to increase your pet's speed in the first row, tenacity pets only get Boar's speed, and this in the second skill row. So Osiris needed his time to get in range for Charge. But once he was on a target, it wasn't able to move quick anymore

Still I prefer spiders/owls/... for pvp.
I really dislike Osiris running animation: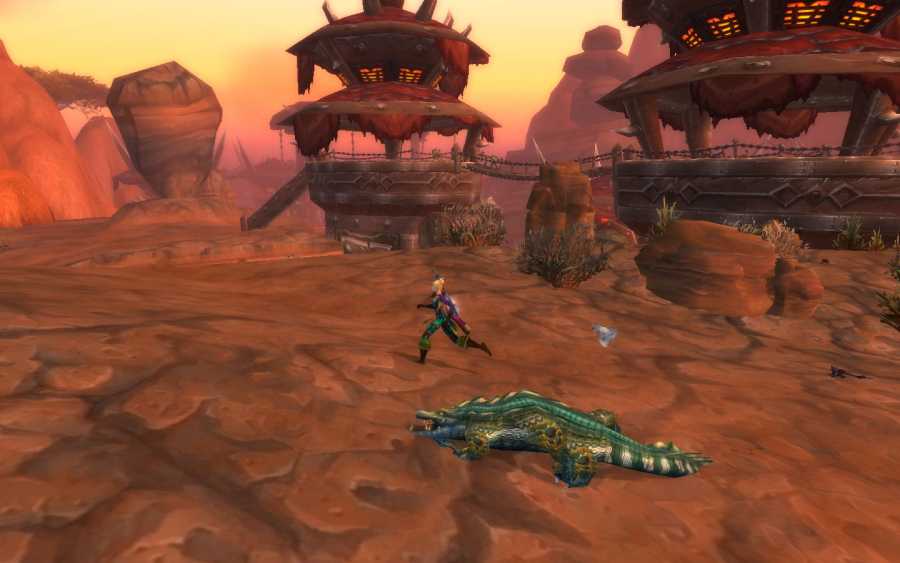 As you can see in the other pics, Osiris has SIX legs (rl crocs have 4), this was the first thing that bothered me. I don't think it's wrong for fantasy pets to have six legs, but it has to fit. When Osiris runs the middle pair of legs moves inside the legs behind. It looks like he only has TWO pairs of legs then. Also the three leg pairs somehow divid his body in thre quarter-parts if you look at him from the top. Especially when running, these parts just move weird.
But all in all Osiris is a very nice and good pet.
After Osiris I went to look for the red beetle.
Anubis: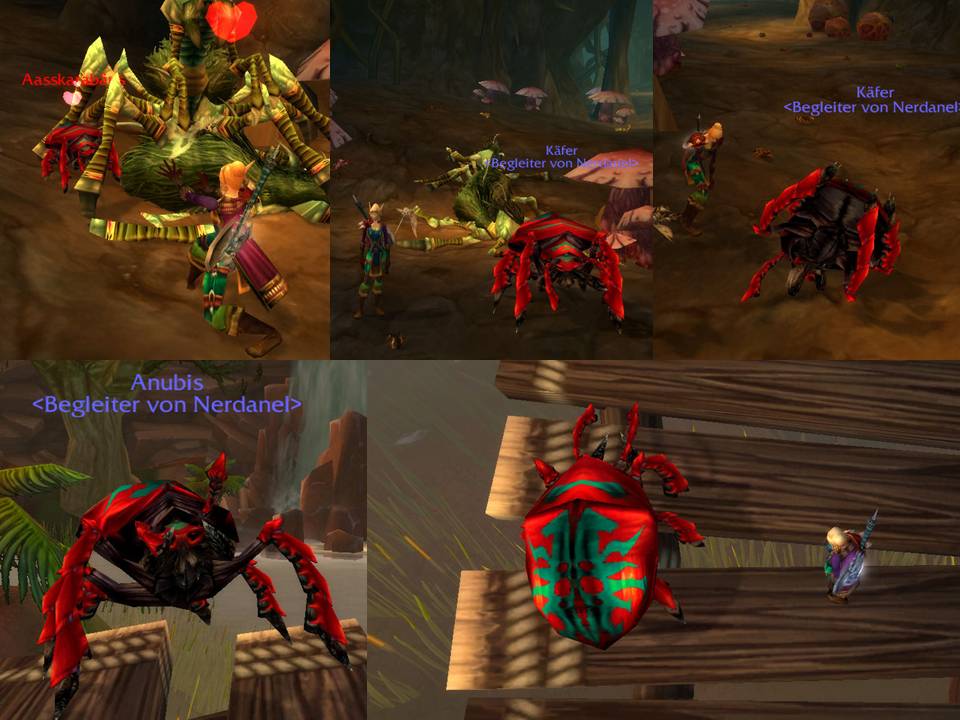 If you are not level 85 and get to the Bastion of Twilight, the only way to get this beetle is patience. I looked it up, that he is summoned by the Crypt Horrors or the Nerubian Sycophants in the eastern Plaguelands. They can either be 39 or 40. Nerdanel was 39, so I set out to the cave where all these little critters run around (usually I bomb them with my priest to get the minipet with my guild...) and the Nerubians can be found. Then a very long time started for Nerdanel. I kept going though this tunnel back and forth killing all the Nerubians. At first I had a pet out, but I put Tuffy the Turtle away after we killed the first beetle by accident. It took really long until the first beetle was summoned and we killed it. The next beetle was 40, so I couldn't tame him - a long time and many dead Nerubians later finally the third beetle was summoned and he was level 39. While the Nerubian kept hitting Nerda she tamed her new little friend and together they finished the Nerubian off. They were just posing for my second picture of him, when suddendly the beetle fell over dead. Nothing was hitting him, he just died. I would have been horrified, hadn't I read about it earlier. It can be possible, that they die after taming, just rezz and it's ok. So I rezzed poor beetle again and it was fine. He didn't die again. I named this beetle Anubis.
Beetles have one of the cutest animation (next to piggies' but wiggle *squeee*), they look at you "how're ya doin'?". Anubis was nice enough to do it for the camera

First pic on the left, bottom line.
Anubis colour is a very bright red (like a fire truck) with green patterns on his back. I like beetles, but I never am able to bond with them. I had already tried out the green one with Nerdanel and hat the yellow one with Findu, but they never click with me. Anubis is also a tenacity pet and has almost the same ability as Nerda's turtle: "Harden carpace" reduces his taken damage.
Next pet on my list was the hunched brown cat. The only pet with this skin is the rare cat Pogeyan from Stranglethorn.
Meet Bastet:

When I was looking for Pogeyan the first time, he wasn't there. Of course. So I plucked some flowers to skill Nerdanel in the area, found the rare croc Mahamba, but no Pogeyan. I logged out on his spawnpoint (luckily enough he only has one) and decided to check later. Later got the day after, but when I logged in he was wandering around in front of me. Oh my gosh, he is just HUGE. The tame went easy peasy - he is only level 28.
I fell in love with this cat skin earlier when I tamed him with Findu. He is one of the metal kitties and the opposite of dark Skarr. He is a nice glowing yellow and has this shimer on him that moves when he moves. Almost like little golden flashes on his skin. He has read glowing eyes (little creepy, but ok).
His animations are the normal kitty ones: stretching and yawning. Nice sounds in combat - growling and hissing.
I named my Pogeyan Bastet, the egyptian cat godess.
Bastet is a very nice dps pet for dungeons and questing with her is also quite good, but she didn't hold aggro well.
Last pet on my list was the green serpent. These pets only can be found in Thousand Needles. Nerdanel had to gain one level to be able to pick up one. They are between level 40 and 41.
This is Apophis: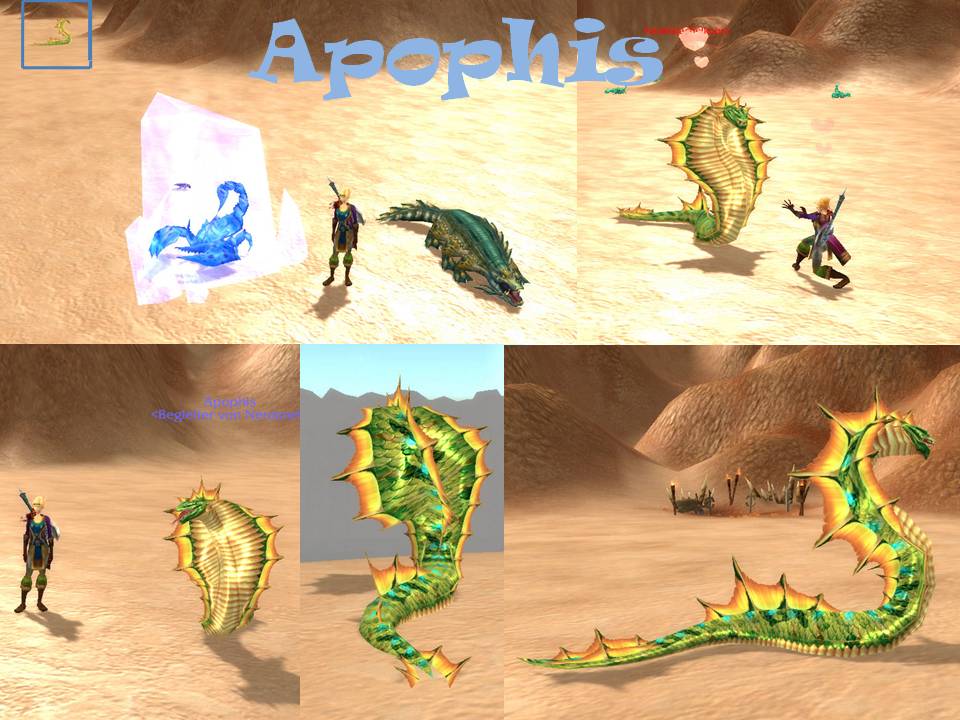 The first pic was quite funny I went to pick up my serpent west of the Splithoof Heights so I had to kill a few scorpions on my way. When I put one in my freezing trap I noticed that they get a very nice blue colour. I'd LOVE to have a scorpid with this colour. In the background future-Apophis photobombed my picture, I marked her with blue.
I tamed this serpent without problems and we posed a little on the cliff.
She is a very nice green and yellow colour with orange on the tips. Her scales shimmer when she moves, almost like she is under water with sunlight shining through it. On her back she has a few blue spots. Apophis is such a sunny beauty, she lights up every situation with her bright colours.
Her ability "Corosive Spit" reduces the enemy's armour - so she replaces a warrior, if the group is missing one. Apophis is a cunning pet, so she seems made for pvp, but her ability is none I personally would use, I prefer more slowing things or owls who snatch weapons. Actually Apophis did well with dps in a dungeon - so for me she would rather be a pve companion.
Conclusion:
I like all the pets I tamed - BUT I will not keep them. I decided to give Nerdanel a white/purple/pink stable theme and already started to tame some pets I'd love to have (like Arash-etis, Ashtail, Bayne). Perhaps I will rehome these egyptian pets to one of my baby hunters on an other server, especially Osiris has already really grown on me.