Nachtwulf wrote:
What about male humans? Male humans have like... exactly TWO decent hairstyles, and the hairlines are broken on about half of them so that there's no blending between the hair and your forehead so it looks like a toupee. It's HORRIBLE. And it hasn't been fixed since the first days of the damn barber shop too even though I've ticketed it and complained on the forums since BC. But ooooooh no.
Come on Blizzard, fix what's BROKEN before adding new crap.
Also most of the male worgen hairstyles are similarly broken. Just check out the 'loose' hairdo on them if you want to see what I mean.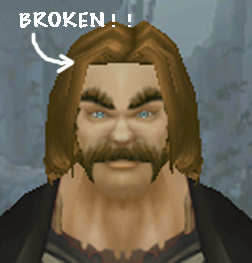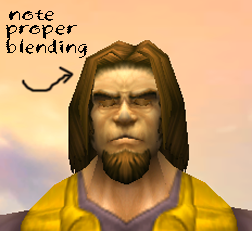 Hehe...old post is old, but this blending problem is also present on male Tauren player character models. Seems perfectly fine for most of the Tauren NPCs...but, yes. The "blending" texture is missing from male tauren facial hair styles. I'll post screens or something.
Yup! Here it is: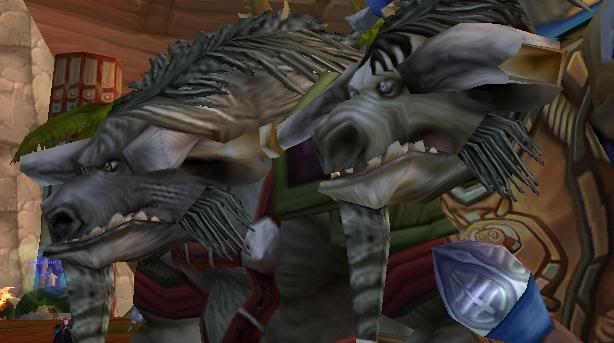 Note that the tauren NPC on the left is the one WITH proper blending for facial hair. The tauren on the right is my shaman, a player character, and he does NOT have blending. All male tauren player characters have these textures missing. I know. I have tons of them. (Love tauren.)
I also assure you that this is not a difference between different faces, skin colors, etc. I simply needed to find a tauren with the same facial hair for comparison. This particular skin/hair color combo isn't as noticeable as others, but it's still fairly clear that something screwy is going on. D;