I absolutely LOVE Transmog, and I have to say, I've gone a little wild with all my toons' looks.
For Cerah, at first I was going to go with the Dragonstalker Outland recolour, especially after I got a really nice Crossbow drop off the Lich King himself in ICC:
But, I ended up going with a more unique, "Northrend" inspired set, even though most of the pieces for it drop in Outland. I'm calling it "Icestalker". It's mostly Tidefury pieces, with the Pauldrons of Surging Mana, an Outland world drop, the Merciless Gladiator's leggings, the ONLY actual pants I could find to match the Tidefury set (and are, strangely for a PVP set piece, obtainable without doing any PVPing), and my Felglacier bolter from the ICC 5-mans. Originally I used the Tidefury helmet with it too, then the new Shaman helmet dropped in I think the Hour of Twilight, and I won the greed role. It matches perfectly. Torrasque, my Chronomaggus, approves.

http://www.wowhead.com/compare?items=28 ... ;15596.358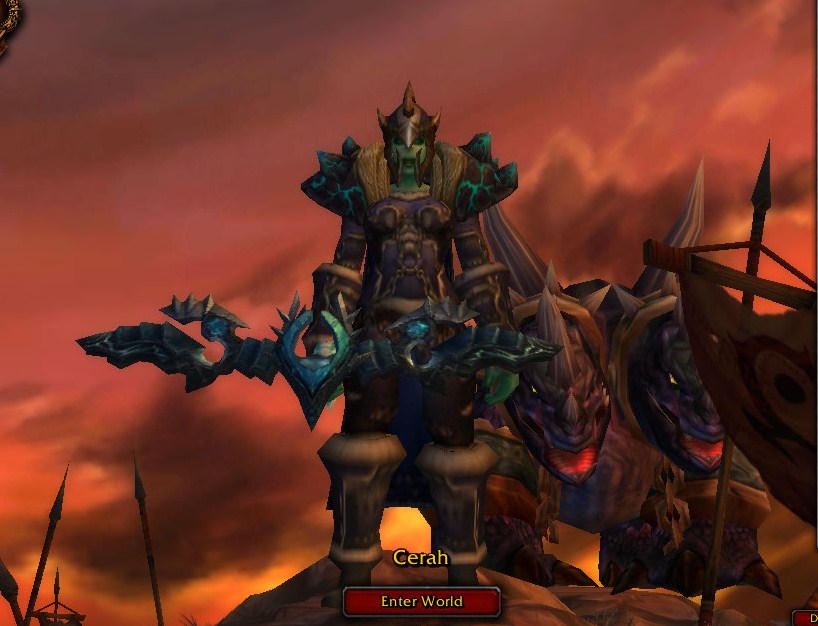 For my warlock, Emielee, she's always had a "Corpse Bride" theme going on, so after some indecision (including the collection of several tier pieces), I decided to go with as close to a bridal look as I could get with her. Most of her pieces are self-tailored, including the big one, her Mooncloth Robe. Shoulders are surprisingly one of the earlier tailoring patterns, the double-stitched woolen shoulders. Gloves are Soulcloth Gloves, until I find something better.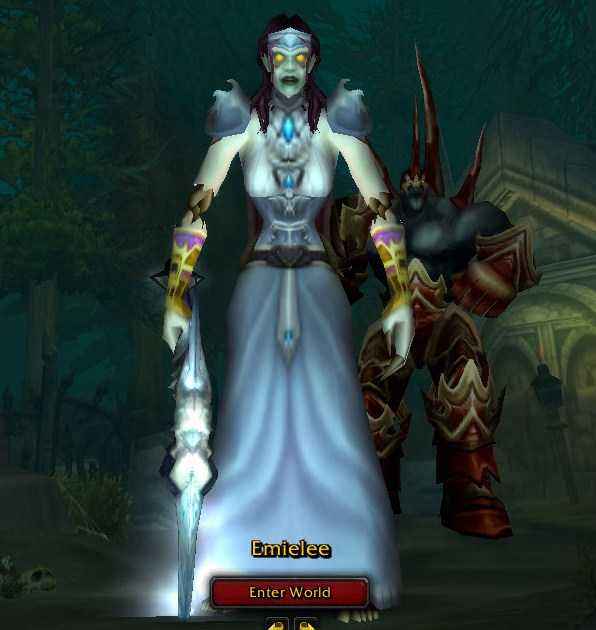 Cerah's daughter, the half Troll, half Orc Fire Mage, Taysha, went with something a little more traditional: The Outland "Fire" recolour of Tier 1. Since the new dungeons have come out, I've made a slight adjustment. I found the Firehawk Robe from Tier 12 matches quite well with the other pieces of this set, so I've taken to wearing that, untransmogged, with it.
Original Look: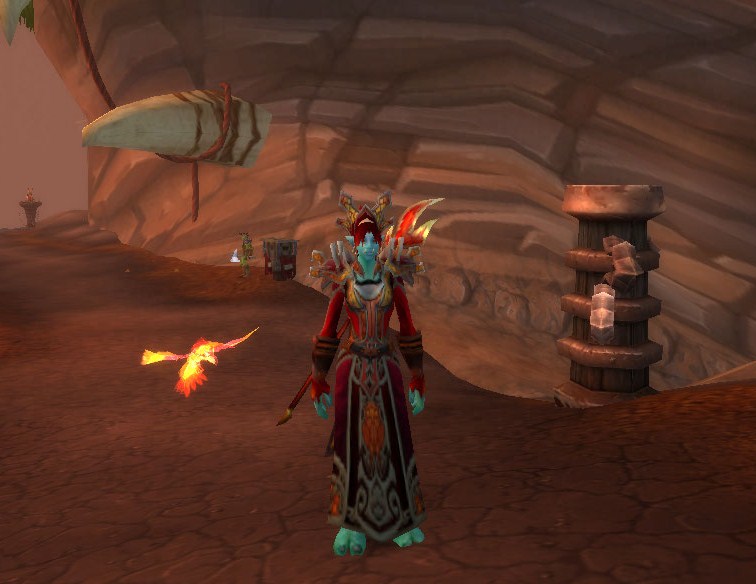 With Firehawk Robe, see my armoury page (I'd make a pic, but the servers are still down atm):
http://us.battle.net/wow/en/character/a ... sha/simple
For Lighthope, my Paladin, I got into a bit of a dielema. I had collected the lvl 60 PVP set for her, only to find out on patch day that only "real" PVPers could use that for Transmog! I really wanted a plate "Blood Knight" set for her -- so she'd look like the true, loyal follower of Prince Kael'thas that she is -- so it took a little creativity. Helmet and boots were purchased from G'eras, the Naaru trader in Shattrah for Justice points (considering she's only lvl 77, that took quite a bit of pvp-ing to make enough honour to change over). The pants are a random blue Outland World Drop, the gloves a boss drop from Blackrock Depths, the chestpiece and belt are part of the Darkcrest green set, and the shield and shoulderpads are Outland quest rewards (an identical shield drops in Heroic Hellfire Rampants off the first boss if you're interested). All and all, I think I've made quite the Blood Knight.
Here's the WoWhead list of the pieces I used:
http://www.wowhead.com/compare?items=31 ... 5549:30275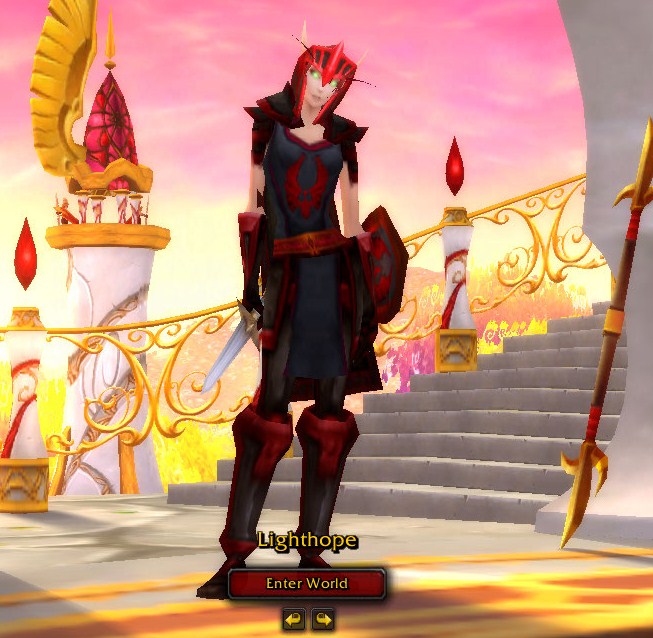 Pic's a little inaccurate, since it shows her now-unusable PVP set. Here's my armoury link for the new look:
http://us.battle.net/wow/en/character/a ... ope/simple
Bessey, my druid, went for a modification of the Outland Tier 0 (Wildheart) recolour at first. It's mostly the same, except for using the Whisperwind Headdress, an old favourite of mine, and a feathery, black chestpiece whose name escapes me, but can be made easily through Leatherworking. The mace is an ending quest reward through the Ring of Blood questline in Nagrand.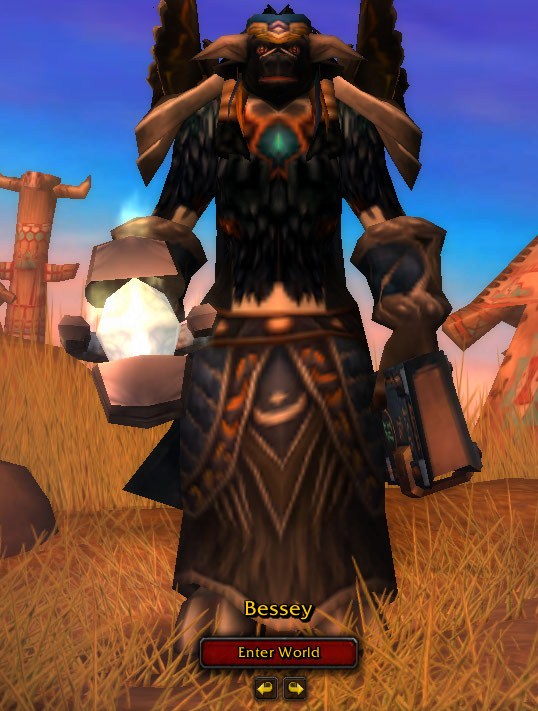 Then, I got the Tier 12 chestpiece, and the Scepter of Azshara dropped for me. I decided to go with the green, almost Feralheart-like recolour that I was originally planning to use for Bessey's Balance set instead. Same basic look, different colour scheme.
http://us.battle.net/wow/en/character/a ... sey/simple
Trixzie, my goblin Shaman, was easy. I loved the bright colours of the Earthfury set, so I got my guild to take her on a couple Molten Core runs. I find her Gadgetstorm Goggles match quite well. Now I just have to save up and buy the actual mail heirloom shoulders. At least Bessey's old leather ones don't look too bad with this set for now.
I even got my bank alt into the fun. Meggera decided she was a Death Knight who wanted to look like a Paladin. All it took was hanging around the Auction House for a while to get her Conqueror's Gear, with a few modifications.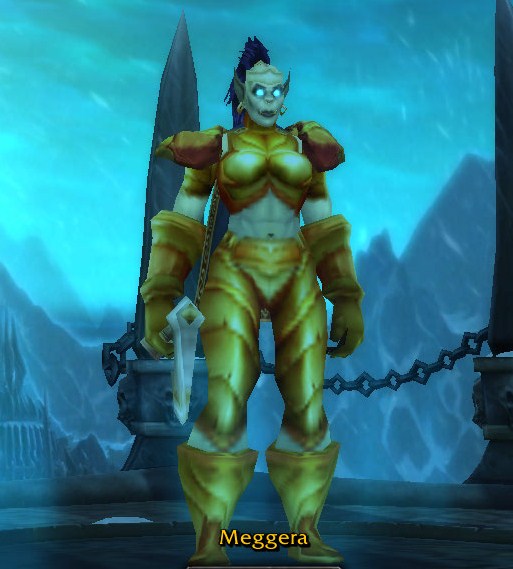 Finally, the last of my higher level characters, Lydeea, my Forsaken alt hunter, decided to go with a wolf theme, to match her Headdress of the First Shaman. The Outland Shaman Tier 2 recolour was a perfect fit, even if it took FOREVER for the Oceansong Kilt to finally drop. I just wish there was a red mail robe or kilt set so she could look more like her namesake, Lydia from
Beetlejuice
. Oh well, this one still looks nice.
I neglected to take a screenie, so here's her armoury pic. I have to remember to take one with Ilosvic, her ghost wolf.
http://us.battle.net/wow/en/character/s ... eea/simple
I need to level up my other alts. What can I say? I love playing dressup with my toons!