Well seeing as Nubhorns can do it why can't I?
The first pic is a redraw of a drawing I did back in first year of Animation school (I'm in my 3rd and final year this year). In order to expand our drawing skills and get us used to drawing in other styles for an hour a day (thats 4 hours a week as we have 4 school days mon-thurs) we would do this thing called "Random drawing topic" as the name suggests we would do a random topic our tuter gave us and one day it was "My little pony having a bad day".
This is what I did back in first year (Beware is horrible and I cringe looking at it!)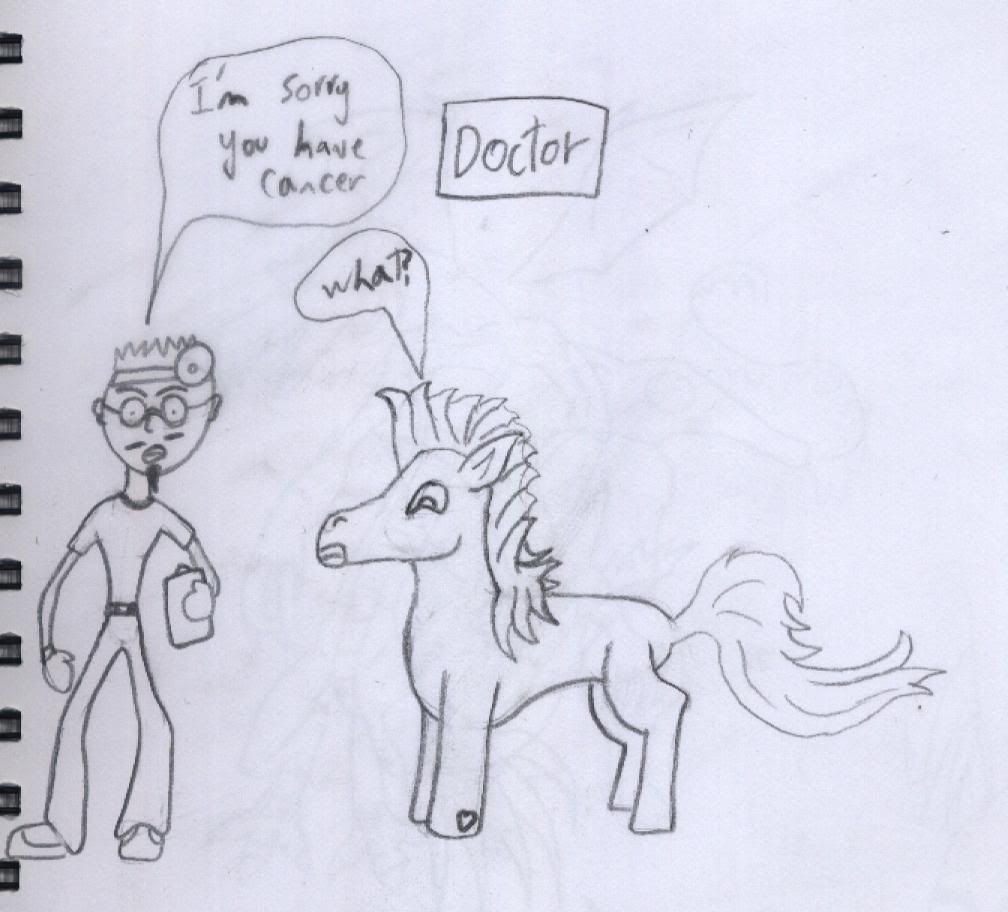 Now this is my Redraw. As you can tell since first year my skills have growen!
Now thats much better!
Now redrawing that kind of got me on a pony high and that fact that the new style from the new show (thats a very well done flash cartoon btw) is VERY easy to draw I desided to draw some more. So I did some ponys based of things I like and/or think are cool.
First is the FOUR MY LITTLE PONYS OF THE APOCALYPSE!.Death,Conquest,Famine and War! Now I have done my research on this topic and found out Conquest is one of the four horsemen that was in the bible. Pestilence did replace Conquest but is generally espoused by those unfamiliar with the actual Bible texts which describe the Four Horsemen.
Now on to the show! dodedodode
Death!
Conquest!
Famine!
War!
Now many of you know I'm a HUGE warhammer fan and love it more than warcraft. I have a Chaos army and love the lore of the 4 main dark gods of chaos (I know theres others like the Horned rat) So I did them too!
Tzeentch the God of Change, Evolution, Subtlety, Mutation, Magic and endless Schemes and Plots. (allso called the raven god)
Nurgle the God of Decay, Deformity, Neuroses, Necrosis, Pity, Disease and Physical Corruption. (allso called Grandfather Nurgle)
Slaanesh the of God of Hedonism, Masochism, Sadism, Beauty, Addiction, Sex, Wealth, and Psychological Corruption. (allso called the dark prince/princess as it is seen as a male by Humans and a female by Elves/Eldar. Its all so my fav out of the four my choas space marines worship him and him only)
Khorne the God of Blood, Force, Anger, Bravery, Retribution, unrelenting Fury and War. I got him sitting on top of his skull throne.
( I put him on his famous Skull throne made out of brass and sat atop a mountain of skulls made from his followers)
BLOOD FOR THE BLOOD GOD! SKULLS FOR HIS SKULL THRONE!
Hope you like I might put more up later. These are all on my DA page if you want to know. SO come vist if you like!
If you have any requests just ask!