Good lord, Alexandre is ridiculously elegant. Love what his Bethany looks like in that last screenie - she actually reminds me of my own Hawke, so maybe I'm biased.

I ended up deleting the elf the first time she talked with Cullen in Haven, and she made this hideous, goofy smile that had me so digusted I couldn't bear to play her anymore. I decided instead to make a Qunari archer, and so far there have been no stupid, pre-teen smiles. Long may it continue!
I'm currently working on getting most of the companions, and then I'll just go out and explore, explore, explore. Not sure about a romance yet, probably Iron Bull, but I do want to see what Blackwall has to say for himself as well. His beard is quite hot...
I did consider romancing Iron Bull with a dwarf too, but as soon as Varric appeared on the scene in the intro, I knew there was NO WAY I could romance anyone but him, and him not being interested at all just adds insult to injury. Hahah!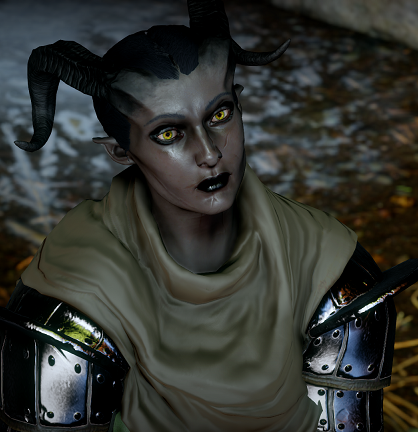 I realise she looks almost identical to my previous Qunari mage, but somehow there was some pink blush that slipped in on the mage, which was NOT supposed to be there. Corrected in Rashira here, thankfully.

_________________
Many thanks to Ashaine and Kurenio for the beautiful signature and avatar!