After drawing that Aotona Gijinka I started to miss the basin. I flew out to do one last round for Krush, just for old time sake, and do another little circle for Aotona herself.
I Swear blizz wants me to have Everyone But Krush. I'm not sure if it's fair or not, but seriously...I want the dino darn it! I told myself when I got there 'If I find Krush or Aotona then I'm taming whichever is first and waiting for Cata for the other.' So..Krush hunting is over. And Sashiro is making lots of cubs with Kaya up in Winterspring (Made sure I hand in the Shy-Rotam quest before I let him go.)
Anyway, this pretty lady needs a name. I toyed with Rainbow in my head for a bit but laughed it off. Sounds too..silly. But a name to do with colours or colourful would be nice.
_________________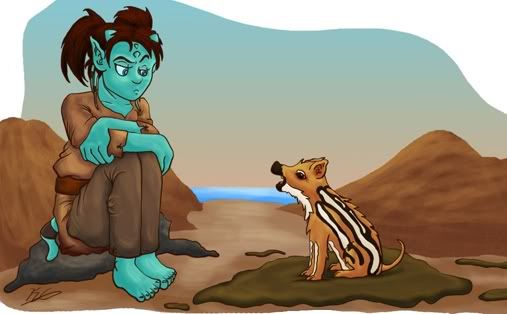 Awesome Avi done by Moonlost!
Equally Awesome Siggy by Kamalia.