First let me start off by saying that I've never really been in the spirit-beast race. Some of them are pretty, but to me it's never been worth joining the crazy camping sessions that some people have talked about.
Well, I went to the basin today on my NElf Hunter with the intention of getting a wasp. I tamed him and started taking him around on a leather-grinding, level-raising spree. About two hours into my sholazar-leather rounds, who do I stumble across but the much-sought Loque'nahak!
Surprised, I first ask on general if any other hunters need him. I know a lot of people out there who desired him more than me. But nobody responded, so I figured "...why not?" I dumped the wasp (I'd only gotten him up one level anyway) and tamed Loque'nahak.
But now he needs a name! For Silinrul, I've been using elven/drow name themes for the most part, so anything of that nature would be great

Suggestions please?
~VelkynKarma
_________________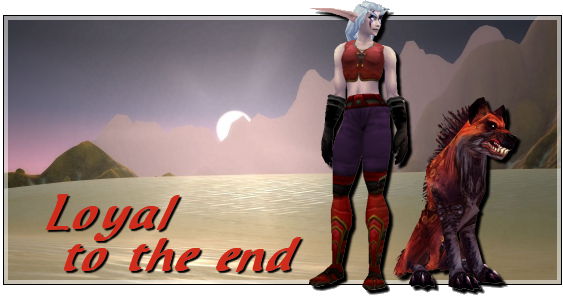 Silinrul and Jiaphyon of <Ominous Latin Name>
A big thanks to Vephriel for the awesome signature