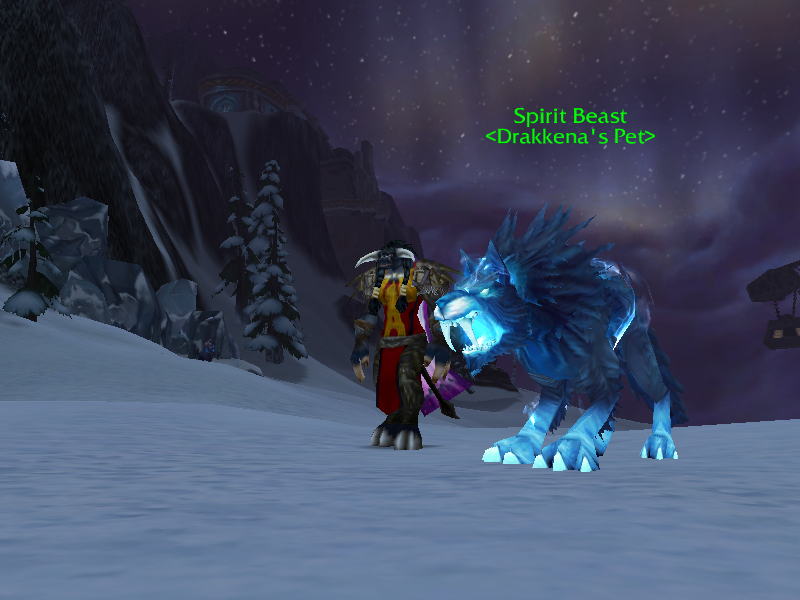 So, when Dragonmaw CRASHED literally on me and my entire guild. Locking several of my guild mates into Ony 25 waiting for the loot table to roll around. And me and my friends getting locked away in UBRS Stadium, I logged onto Bloodscalp on my 80 hunter when it completely died and everyone went offline.
I decided... what the heck, I scott for any of the spirit beasts that I didn't have. As I currently have Ashendale (Loque'nahak) and have had him since level 77 and for SEVERAL long months. I flew by... browsed by Art's area... saw that there were 2 other hunters there and he wasn't up. Flew on off to Gondria's place, (Since I tend to do circles around) and again no luck. Finally... I decided to go on off to Storm Peaks before flying back to Art's place. Gliding along I buzzed by the Time-Lost FP areas before going to one of Skoll's locations.
Nope not there.
Flew up a bit more... DING! Skoll's picture flops up on my screen and I FLIP THE HELL OUT! Almost forgetting I am on my Albino Drake I DOVE down into the ground at a rapid place... Do I have a temp pet? Yes I do... I have an eagle... DITCH IT! *drop Freeze trap* Skoll walks into it (Because he came around and was walking towards me at the time) he freezes very soon...
Tame beast! Wait... Where's my TAME BEAST! OH FUCK IT'S NOT ON MY HOT BAR! *digs through spell book* AH HAH THERE IT IS! Freeze traps almost done, I'm expecting someone else to swoop in... Nope... 3... 2... 1... TAMED!
REJOICE! I got swarmed with people when I posted I'd tamed him XD And a few came to congrat me on the tame.
The only problem now lies in the Name for him. I picked Ashendale for Loque'nahak because I have a character that is named that in particular. Though he's a plagued parasite dragon thing and Loque's and awesome spirit beast. XD I'm not one for the 'dork' names or the silly ones. I enjoy serious names that perhaps mean something towards the pet or actually mean something. I've been having a hankering for Egyptian stuff lately though with the new Uldum zone.