Obviously the eyes have had a good impact on our Petopian FR community. It's been so fun seeing everyone posting again!

Nacht - Those Mirrors are just gorgeous. Love the colours and the genes!
Peridot - Wow, Jani looks so regal, I just adore her outfit. Patience carries off that accent so well. The red babies are obviously gorgeous - and I really like the contrast with their white eyes.
Tyger - Eee, the buttercup tapir is so cute with the purple feet and face! Really liking those blue Bogs also.
Lupis - You got lucky with all those cool eyes! I love that burst of colour that the rare ones bring to the first girl, and unusual Plague eyes are really creepy. Love them! The orca boy is a looker as well, I like his interesting genes: the daub works so well with the giraffe primary for some reason. Congratulations on Byzantine's lucky eye scatter! Those are perfect for her, they really draw the attention to her face and wings.
Dew - Kemuri is so unusual and wonderful! What a nice find - I'm looking forward to seeing her with Firefly.
Teigan - Hah, I wish I had such eyeball luck in my house! Beautiful dragons.
Tarn - That first girl is rather pretty, I like the lead tapir and marigold wings. Only the umber filigree sort of messes up with the harmony. Still very nice though!
I was stalking Lupis' lair as usual yesterday, when I saw that one of my favourites of her dragons had produced an almost-clone of herself. Thankfully she wasn't reserved and Lakka was able to move in. I'll brew her a poison once I manage to get all the materials ready. I love jaguar, but tan poison is really a thing of beauty.
Then there was this impulse buy. I'm not sure what I was thinking, but there's something about her. At the very least, she's pretty unusual! I gave her morph, because her original striped strawberry wings were too pink.
I was thinking of getting rid of Tarnish, but then I made the mistake of scrying her as different breeds. So she gets to stay for now as a Guardian.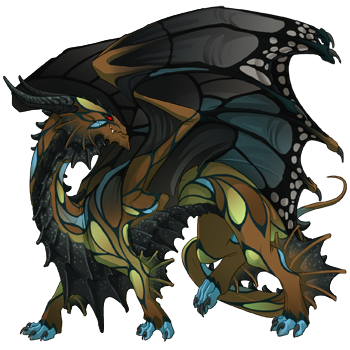 I've been contemplating a brick pinstripe dragon for a while now, but never really found one I wanted. Today I came across this chap, and once I'm done with brewing poison, it's time for a pinstripe.
And on the subject of pinstripe, I'm not sure I ever showed Eldritch in his new pinstripe, which I put on him soon after the gene came out.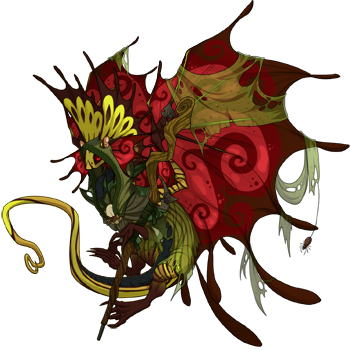 _________________
Many thanks to Ashaine and Kurenio for the beautiful signature and avatar!