Tarn: Shadow and Twilight might be an incredible gem sink but they sure are fun to watch! I'm always excited to see their newest transformations. So many pretty combos that just aren't right for what they need to be. Your new guardian pair looks SO good with their new genes! Merlot and Chianti always have very pretty hatchlings! Razzle/Dazzle had a really great clutch this time, especially the first one there. Salvion and Hanya look amazing! You do such amazing things with very limited access to specific colors! Fable and Fiction had such a pretty nest.
Zhuge: Exalt fodder as they may be, I love wildly colored hatchlings. They're awfully fun! Those PCs are pretty too, I'm slowly getting more and more fond of XYZ dragons.
Iceflight: So many primals lately! Thank you as always for posting your hatchlings for us!
Syleye: Your G1s are super pretty, I'm excited to see them with genes some day! Salvia is so pretty, I love those greys.
Bullet: Your hatchlings are lovely! I just love Peacock so much.
Seren: I love your superhero dragons <3 Spiderwoman especially looks SO good, and Medusa's peacock matches her so well.
Rawr: WOW... you hatch the prettiest Nature primals I've ever seen! That guardian is absolutely jawdropping and if you don't keep her, you'll probably make a bundle off of her on the AH.
---------------------------------
This girl I was offered a long time ago finally got her PC scroll. <3 I love her so much, I want to get her Dark Sclera too.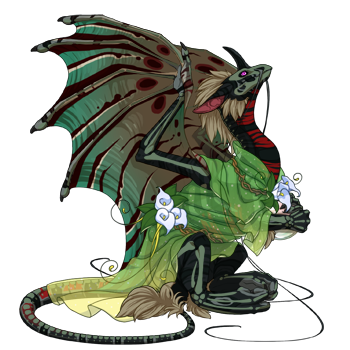 And I hatched a nest of tundras, one of whom is a really nice primal!