Tårnfalk:
Vlad & Vila's clutch look so good with opal! Cosmos & Nebula's hatchlings are as amazing as always! I adore their colors and genes! Hargrim & Iota's little ones look great with their ghost genes! Clyde & Bonnie's hatchlings are wonderful! Eidolon & Cas's babies have very unique and lovely colors! The first boy is especially nice!
SammyB:
Such pretty babies!
Serendipity82:
Your dragons look absolutely fantastic in their new peacock genes and your hatchlings look wonderful!
Syleye:
Your elemental reps look amazing! The ones with apparel look incredible in their outfits!
-----
As hard as it is to cull dragons now with the current lack of lair space, I've been making some hard decisions in order to make room for new. This lovely lady is my latest addition. With her colors, I just couldn't pass her up when I saw her on the AH! She has a lot of potential, though it will be awhile until I have the money to gene her!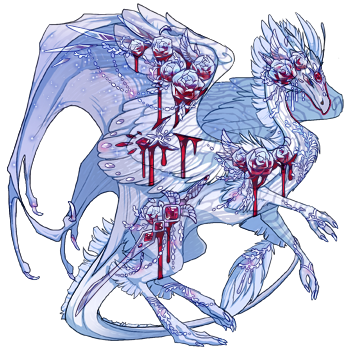 >
_________________

Ashaine Silverfel - <Dreadblade Assassins> - Silver Hand US - Faileas#1676
Deviantart | Facebook | Signature Shop | Flight Rising
"Not all who wander are lost."
Guildmaster • Hunter-Friendly RP Guild • Always Recruiting! • PM me!