Bulletdance:
Those ghost hatchlings are stunning!
LupisDarkmoon:
I'd never seen a snapper in the new apparel! They look so formidable! Your boy's colors go so well with the bewitching set! Your nocturne girl looks fantastic in her apparel and the outfits on your other two suit them perfectly! Your bog hatchlings look incredible as well!
Teigan:
What wonderful hatchlings with great colors!
Tårnfalk:
Thor & Sif's babies are lovely! Shadow & Twilight's babies are very cute! I'm kind of digging Twilight's last scatter!
Dewclaw:
Your dragons look fantastic in their new apparel! It matches them so well!
Kya:
Gorgeous babies! Their colors are wonderful!
Rawr:
Very lovely babies!
Aleu:
Such pretty little bogs!
Qinni:
Folgers looks fantastic in her new apparel! It suits her well!
-----
Lack of lair space has made it hard for me to enjoy NotN this year as much as past years.

However, I did manage to make room for one lovely new boy. He is one off XYX and still needs glimmer. However, I did give him a Scroll of Eternal Youth. He'll be my first perma-baby G1. ♥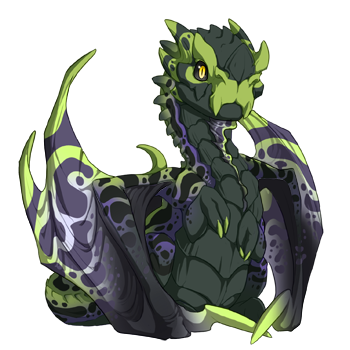 This is Sekhmet. I attained her awhile back but didn't want to show her until she was gened up and had proper apparel. I think the new Eerie Cyan set matches her and the Crystalcourt Cascade piece quite well!

_________________

Ashaine Silverfel - <Dreadblade Assassins> - Silver Hand US - Faileas#1676
Deviantart | Facebook | Signature Shop | Flight Rising
"Not all who wander are lost."
Guildmaster • Hunter-Friendly RP Guild • Always Recruiting! • PM me!