Iceflight: The mafia has so many stunning hatchlings, thank you so much for sharing them every day!
GormanGhaste: Your SD lad is gunna look amazing as a fea! Carica is SO pretty, and that luna moth fae is going to be perfect- so gorgeous. It makes me so happy to see so much fae love! Those mossy guardians are super cute! Really love that tan/obs/obs snake fae, tan poison is so pretty.
Tarn: Love the hatchlings from Gravel and Pebbles! Batman and Catwoman had pretty hatchlings as always. Sergey and Sayyida had a gorgeous kid!
Death_Dino: That primal SD is really lovely, and I like that coatl a lot!
Rawr: Your tree dragons make me so happy!
Bulletdance: Those imperials remind me of old Anubis statues, I love them!
--------------
As always not too much happening in my lair (fodder nests and breeding projects, mostly) but I gave Byzantine goat eyes!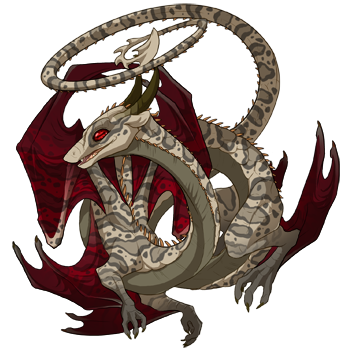 _________________
Tumblr ~ Flight Rising
Signature by Crookfish, thank you so much!