I hope there isn't another thread for this, I didn't see one, but I could have missed it.

However, as much as I LOVE the Show off your dragons! thread, I'd also love to see more on other people's projects. Your gen 1's you're geneing up, your dragon that you picked off the AH to gene up, dream dragons in progress... And progress shots especially would be awesome to see!
I currently have a few going on right now, but I'll only do the pair I'm most excited right now.
It all started with this girl (I blame smoke's release and me boredly playing in the Scrying Workshop while trying to grab it xD):
She's Blood Iri/Mulberry Shim/Lavender Smoke...and she doesn't exist. There are only 2-3 females on the site with those colors, and they're in homes dressed and with familiars. So I now have a pair that can breed her.
But then I wanted to design her a mate...and this guy was created:
Midnight Ripple/Navy Shim/Sky Smoke
Thankfully -praises the Shadowbinder- a male existed with those colors, so I'm working on geneing him. He started as the skydancer. The second picture is his current status.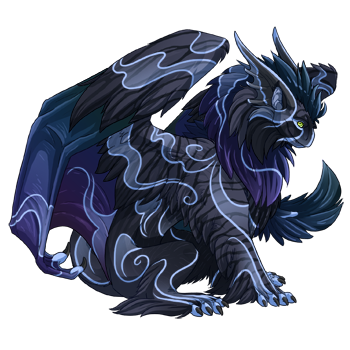 He's getting there! I'll add his smoke when the hype dies down and my pockets recover from that ripple gene. xD
So yeah, what are your current dragon projects? -nosy, curious- Before, afters, goal picture...share it all!