Im in a "ughn my dragons bio are soo much worse than anyone elses" so yes i am contemplating to change bio layout.. again! i could use some suggestions/feedbkacks.. and yes I been through the bio links on the helpfull page

- What do you like/dislike about my current bio layout? The more specific you can be the better

If you like any other setup better why? Specific helps me decide

Dont think of the text (I prob change that anyway) but more the flow of the bio.

Does it make you go WOW? Why/Why not. Do you want to read the text ? Why/Why not
Thanks in advance for your help


Current (Click my dragon)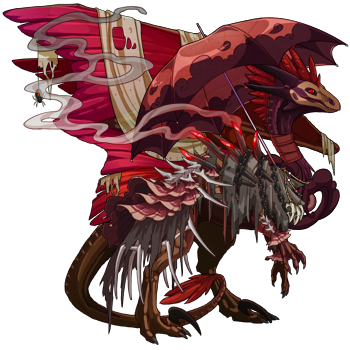 Considering these (with a slight change of pictures to fit my clans theme) - click the links to see
http://www1.flightrising.com/forums/cc/ ... t_28638358
- might replace the animals.. not sure
https://imgur.com/m0fPqAx
- got way too many sections for me.. but I kinda like the pirate theme... might use the boat?
maybe some of the stuff here ... Idk .. kinda stuck

http://www1.flightrising.com/forums/gde/2167344
_________________
HUGE thanks to Makoes, Syleye, FeralClaw, Pingupuff, Karin,Bowno, Varethyn, Ashaine, Kishay, Aki (Täräin13), my friend Marie and some lovely ppl on Fligth Rising for my lovely sig