Nachtwulf wrote:
]It's terrible. It isn't good for anything! What's more, they altered their stance so they're more 'vertical' than the males, so in real practice, their tail makes even less sense since their balance would be absolutely abysmal. Digitigrade legs need a counterbalance. That ridiculous little afterthought is NOT a valid tail.
I've been mad about this since BC came out and I complained about it then. I'm STILL going to complain about it because it makes no sense. Hell, look at ALL THE OFFICIAL ART and they have at least decently-long tails. I don't know what moron decided to make it that..... thing... instead. Only the fanart shows them with stubby tails and that's because it's based on the game models.
Edit to include what I mean: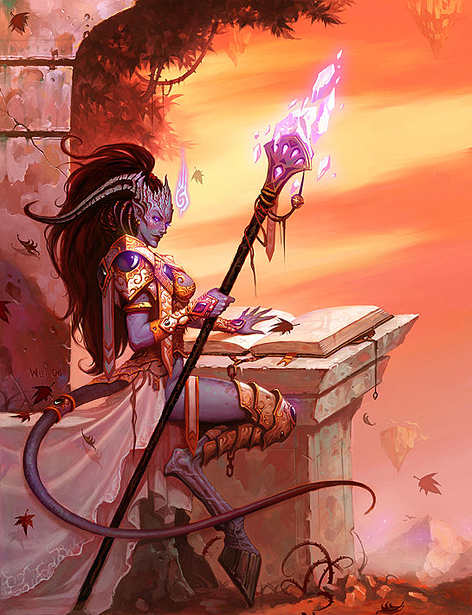 From a CG Modeler's POV, that sort of act would require not only a buggy, but actually rather moot and excruciating attention to unneeded detail to the race that would be pretty much on par with making Naga a playable race. It would make the body model too long, and thus cause clickbloxes to be too broad, and thus cause players to cry about being too easily targeted in PVP, and healers cry about female draenei being too hard to click around (see tyrials [spelling?] charger) and then cause them to require to shorten a click box which would cause bugs, which would cause extensive work which would cause other players to complain when the change is made, or the error is too significant, or they just don't like it. There's a pretty big list of why adding ridiculously long appendages to any body model and let them sway like the default way would. And "Well they could just have it sway to the sides!" you will say. And what, have the cape do the same? The cape links to the tail end of the skeletal model as it is. You wouldn't want to have your cool cape sit there at such an oblong angle 99% of the time you stand still, let alone move. Then comes square one, moving, the click box would be extended regardless, because as it is, the tail reaches outward a bit when they walk, but not enough to extend the clickbox past the default tauren model's range. Then comes another issue, Hitbox. Hitbox is based on model size, we see it today in the game's model size, mind you its more cylindrical based, (See half of Throne of Thunder's bosses. Too lazy to name specifics) subject to change, but on a player basis, its rather limited to a set "Where the model ends" box, a variable hitbox would be not only disastrous to the rendering medium, but CPUs as well. a variable always being adjusted is taxing, sometimes little, sometimes greatly (see Physics engines), if you move, or just shimmy shimmy shimmy.