I doodled some potential mechanical pets. They'd use existing models, and just have new skins. I know some or all of these are unlikely, but I dream big. Anyone else have a dream mechanical pet? Drawing not required.
Brass monkey. Challenge tame: Several metalic orbs would circle it, they wouldn't be killable, but they would be slowable. When they pass between the brass monkey and the player, all channeled spells would be interrupted. The challenge would be to kite the monkey far enough ahead of them that the tame would complete before they caught up.
Clockwork scarab. It'd be really neat if the skin was animated, so the gears on the "inside" part would move.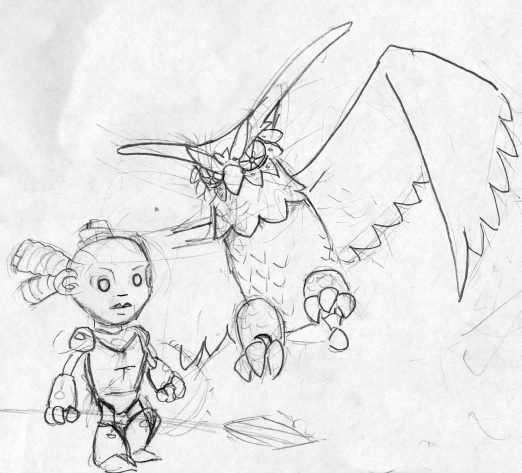 Bobu Beep-Boop. (Bobu beeboop?) Based off of Bubo from Clash of the Titans, which was kind of like a knock-off of R2D2, supposedly made for Athena (Bubo was original to the movie).
Challenge tame: Bobu Beep Boop would start at a random spawn point, and a mecha gnome A3NO (A3 Neo?) would start at another random spawn point. When either is pulled, their frenemy ports to its location, sharing a threat table. Whenever A3NO dies, Bobu instant casts a repair spell, and is stunned with A3NO rebooting a couple seconds later (immune to CC briefly). Both of them can cast the following: port to frenemy (can't be kited away from each other). Un-CC frenemy (instant, no CD). Whirl, interrupts tame beast, goes through immunities/protection. The challenge is to kill A3NO and then tame quickly in the brief moment before the rez goes off and A3NO clears Bobu's stun.
Mecha-arachnid and Pterrorhaxor.
I didn't make a doodle or cut out for "lightning bug", a firefly robot with a charged stinger.