I thought this warranted a separate thread so we can brainstorm how to tame Blood Beasts.
We know we need a
Blood-Soaked Tome of Dark Whispers
to learn how to tame Blood Beasts.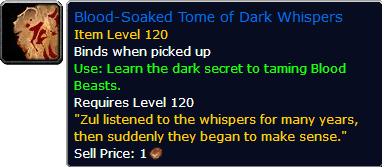 But we don't know how to obtain the tome

Perhaps there's a clue in the flavour text:
"Zul listened to the whispers for many years, then suddenly they began to make sense."
- is it linked to Zul? Perhaps it drops from him in the raid as of 8.1? If so it might be difficult to determine that until 8.1 hits live.
- a new drop from the Underrot dungeon?
- is it linked to a follower of Zul in one of the zones of Zuldazar?
- are "whispers" mentioned somewhere that might offer a clue to the tome's location?
- is it a simple zone drop? So far killing Blood Trolls has yielded no results.