Former threads:
Moths - Warp Stalkers - Crocolisks - Monkeys - Wolves - Core Hounds - Wasps - Dragonhawks

Random pet family appreciation thread is where I roll a random pet family every week for everyone to share their pictures, their stories, their love for that pet family. Please no hate or rants. This is an appreciation thread. If you dislike the family, don't post! Hopefully with some love we can get some hunters to try out new pets they never would have thought to tame before.

Our ninth family is the sturdy turtles!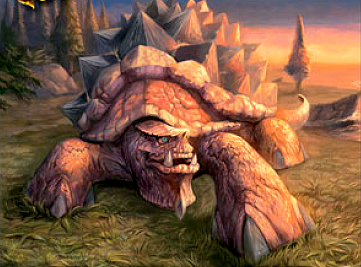 Image from WoW TCG.

Turtle facts

~Turtles have been a tameable family since Vanilla WoW.

~Turtles have three tameable models and seven skin colors.

~Turtles have four rare members: Cranky Benj, Ironback, Scalebeard, and Terrorpene (also unique skinned)

~Besides Terrorpene listed above, turtles have one other unique skinned named member Ghamoo-Ra. Also to note both turtles are unique models.

~Back in Wrath, turtles were tamed by 1.2% of level 80 hunters. Placing them at number 15 on the list, tied with both scorpids and wasps. (Source)

~Back in Wrath, seaturtleskinblue was the most tamed skin at 30.9%. Seaturtleskingrey was the least tamed skin at 10.1%. (Source)

~Two turtle mounts exist in game. Like real turtles, they are both very slow on land and move at normal run speed, but are fast swimmers. The first was Riding Turtle, which was the first TCG loot mount introduced. This mount is the only mount without a level or riding skill requirement to use, so it can be used by everyone, even a level one character. The other mount is the Sea Turtle, which is a very rare drop from fish pools in Northrend and Cataclysm zones (including Darkmoon Island).

~Want a cute little baby turtle? Two turtle minipets are available to players: Darkmoon Turtle and Speedy. A Loggerhead Snapjaw minipet has been datamined, but is not available to players.

~A mage with Tome of Polymorph: Turtle can transform enemy players and NPCs into turtles.

~Cranky Benji has a younger, more optimistic version of himself in Old Hillsbrad Foothills instance. Wonder how he got so cranky?

~Sand Turtles are extremely tiny in the wild, despite being level 70.

~Terrorpene is probably the most well known member of the turtle family, being a Cataclysm tameable rare with unique skin and model. Other turtles share his look, but they are not tameable. Terrorpene also makes a soft fire crackling noise after taming. His skin does not display correctly in the armory and on WoW Model Viewer. A fix for his skin for WMV is here. (Made by me. Totally shameless plug.) The lava turtle model concept art has six legs and a more dragon-like face, plus includes a sketch of a two-headed version!