Vyonne (Krysteena) wrote:
Vyonne nodded, offering a small smile as she looked Varethyn up and down to confirm that she hadn't hurt him or scuffed any part of his attire. This one wasn't anything like Krysteena at all, seeing as he didn't immediately scold her lack of attention or shoot her a dirty look. Refreshing, even if out of the realms of what she understood of each race.

"Oh, yes, I was just here for some supplies for a trip I'm making in a few days with another huntress. Your people proved invaluable in the liberation of our city and I'm very much looking forward to fighting alongside your Horde in payment for what you have offered." It sounded less like something she believed and more like something Vyonne had grown accustomed to repeating and she quickly shook her head after she said it as to dislodge whatever thoughts were making themselves apparent. Blind loyalty was never something she would trust, but unless she acted so, she wouldn't make it by in this new faction she was in.

When Varethyn mentioned Jarak, Vyonne turned to look at the hippogryph, who was a few paces away and watching the newcomer with a wary eye. Vyonne cooed softly at the creature and extended a hand to coax him forward a little. "Jarak is alright, thank you. He's just a little flustered is all." When the hippogryph approached enough for her to scratch under his chin, her smile returned for a moment. "Silly boy, you're alright." The hippogryph let out a soft caw as he looked at Varethyn and Vyonne matched his gaze, amber eyes holding a wary curiosity. "He's not going to hurt you, Jarak. That's just-" Vyonne paused, before looking to Varethyn with a small laugh.

"What is your name, if I may?" She then asked, offering another smile. "You're not like others that I've met and I'd appreciate a name to remember you by." Vyonne paused, before quickly adding, "I'm Vyonne, if that helps any."
I've heard how similar things have been for the blood elves and the nightborne, even though I wasn't there for it myself. It must be comforting knowing people who have been in the same situations.
I'm... not technically part of the Horde. Or the Alliance. People like to think I'm Horde because of how I look, but I prefer to remain neutral.
Regardless I'm glad you're finding a place alongside the blood elves.
I'm glad he's okay. I've not seen hippogryphs as pets before, only as mounts, so I wasn't sure. Hee now I want to go out and see if I can find one who'd like to join me. They're not an animal I'd thought to attempt to bond with in such a way! I've seen them and gryphons and other types of animal like them but always felt it wasn't
right
to try to tame them. Seeing Jarak with you changes that so much! I wonder what it'd be like...
Ah, um... sorry. I tend to get a little carried away when talking about animals. I get on better with them than with other people. I uh, understand why you'd think me different. My name is Varethyn. Varethyn Swiftrunner. It's nice to have met you, Vyonne. Jarak too.
_________________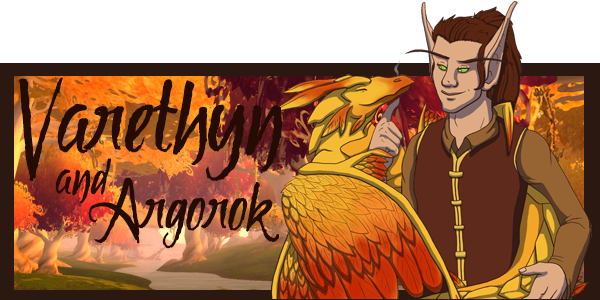 Thanks Kamalia for the awesome sig! Avatar by me!
Check out PetEmote here! | Visit my Flight Rising lair!