Only way to get better is to practice and it's time to practice drawing figures without references. Unfortunately that makes drawing gear rather difficult...
I got this concept seeing someone's WMV collage of a female troll dancing with a wind-serpent (if it's yours, lemme know :p I couldn't find it again) I think I'll call this one "Tame Beast" when it is finished.
Harkoa
Mah hunter in T6 that he never actually got that I never actually finished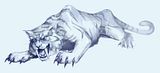 Strawberry tiger pet of his that I never finished either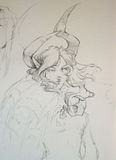 A friend's character... I don't like the T11 lock helm so I just drew the horns.