Vephriel wrote:
Xota wrote:
I'm pretty excited. I can't see what the nerubian swarmer looks like, but even if it's not one of the models I was hoping for, there's plenty of other goodies.
I'm super excited about it!

It looks like an updated model of the cute nerubian spider dudes I always loved.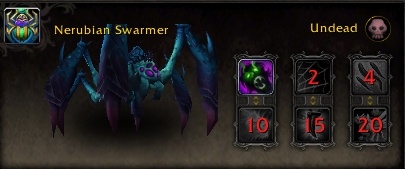 They're perfect intersection of grotesque and adorable. All four colors (found on npcs) are nice, I wonder if they'll be color changers or have color variants. If they were a hunter pet, I'd start using it no matter if it were silithid, spider, beetle, or whatever. I can't wait to farm up as many of those little buggers as I can.