So this may contain spoilers about BM Artifact Quest/Dialogue. So if you don't want to know, stop here.

So during the BM Artifact quest, you will hear Thorim talk about his wolves, Skoll and Hati. He will mention "Where is Skoll?" referring to the Spirit Beast wolf you can tame in Northrend. I know it was discussed and pondered that if you had both out together, did anything happen. But as far as I knew in the beta, nothing special happened if you had Skoll as your active pet.
Today I'm around level 105 and I have Loque'nahak as my active pet and Hati, as usual. So I'm used to the normal Hati sounds (lightning/howling). Today though I decided it'd be fun to do a whole "lightning motif". I go to stables, pull out Skoll and make him my active and I run around with Skoll and Hati.
Well then I kept hearing this weird "new" lightning sound when I was playing. It's definitely an 'old lightning sound file' (like the sound you hear when your character is getting hit with lightning/shocked usually). But it's not a sound I've heard at all regarding/relating to Titanstrike, Titan's Reach, Hati or Skoll. I kept hearing this sound usually when I was turning in a quest or otherwise standing still. So I began to wonder, is it a special idle animation?
Fast forward to me in Dalaran tonight. I'm chatting with guildies and then I heard it. This time I zoomed out the camera real quick to see what was making the sound and I noticed Hati was sitting next to Skoll (who hadn't moved) and was doing the "howl" animation, but there was no lightning coming down, no howl sound. Instead there was a lightning effect/charge hitting Skoll. Then Hati stopped and ran back to where they were previously.
I thought I was going crazy, but then I went somewhere where it was fairly quiet and watched and waited and sure enough. Hati did it again! I never saw Hati do this to Loque when he was active, only began doing this when I switched to using Skoll.
Some screenshots to show. (Sorry they're big)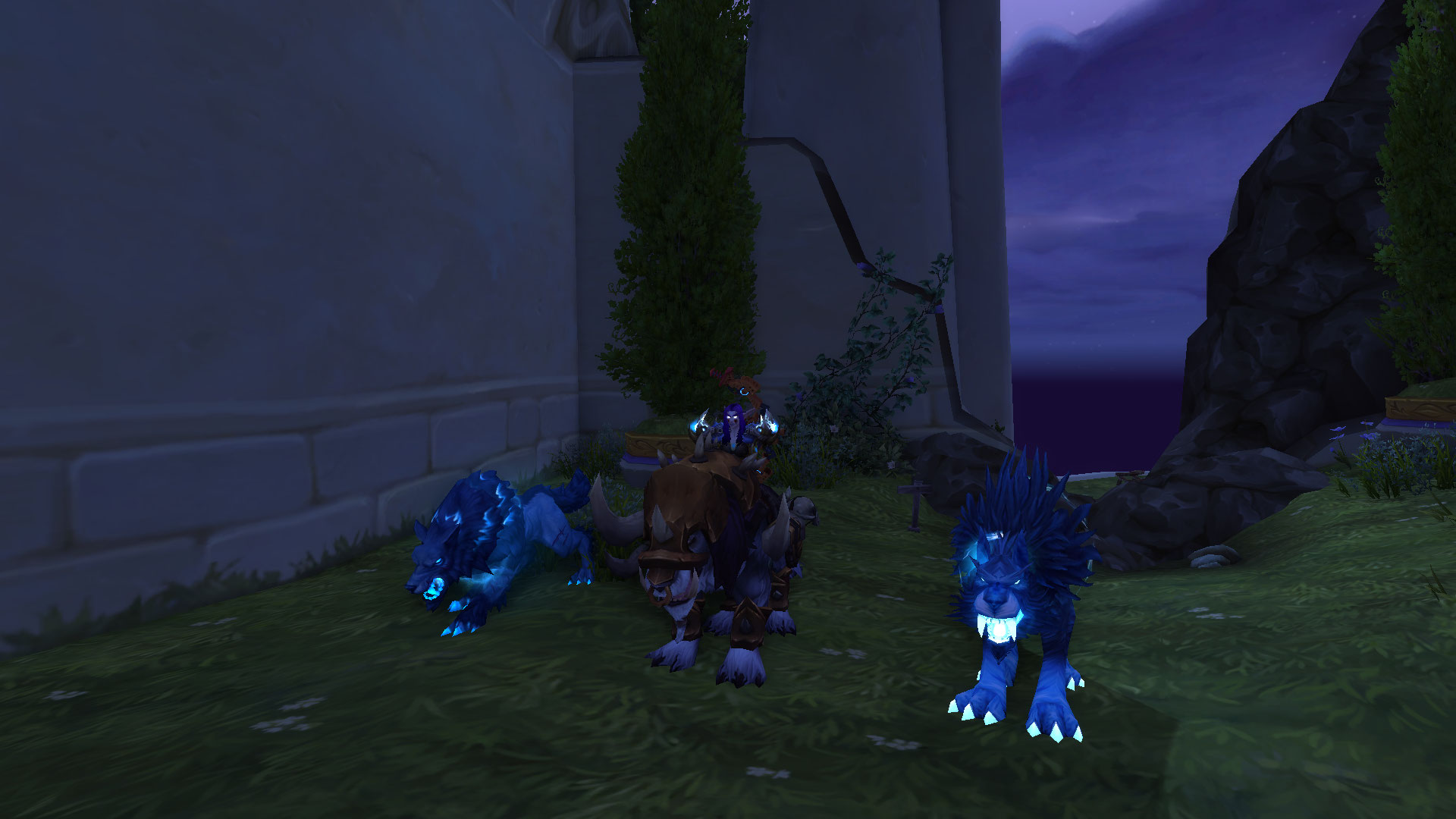 Here you can Hati, me, and then Skoll.
Here is when Hati begins running over to where Skoll is before he begins shocking him. It's definitely not a pathing issue, as you can see Skoll and I haven't moved (just the camera angle).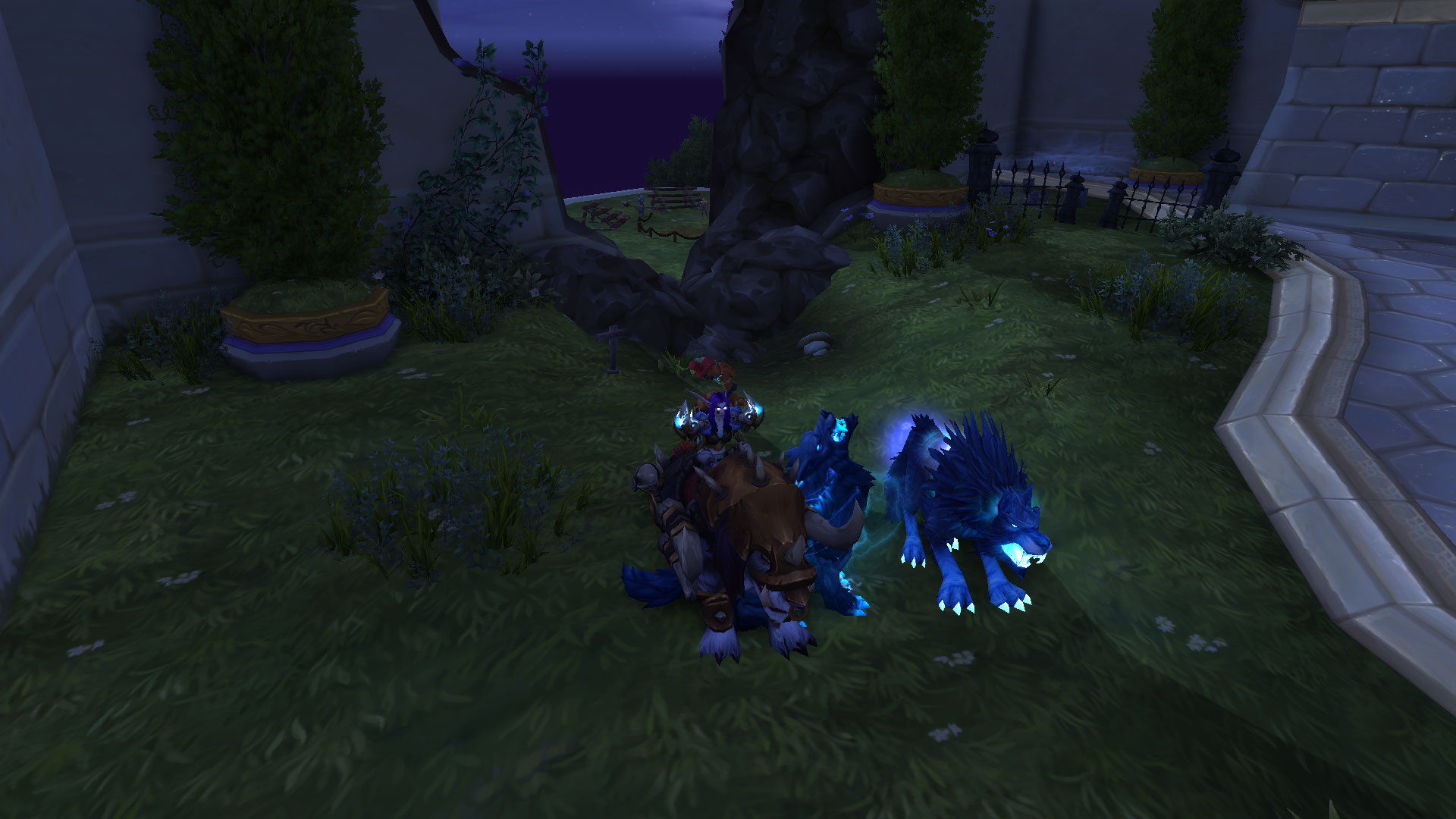 Then Hati sits down and begins to shock Skoll. You can actually see a bit of it here, Skoll has an extra bright white "effect" just behind the tuft of his mane. And it's not the normal lightning that swirls around him, as you can compare it to the lightning just a bit closer to his tail in the same shot. After about 2-3 seconds of this, Hati will stop and return to where he was before.
And I know its not him doing the other lightning animation or a replacement animation. Hati still does his lightning howl, but it doesn't make him move from his spot.
Could this be some special animation that Hati maybe recognizes Skoll?

Or perhaps someone else has had this effect trigger on other active pets?
(Sorry if this has already been mentioned elsewhere)