Merry Crawgmas, everyone!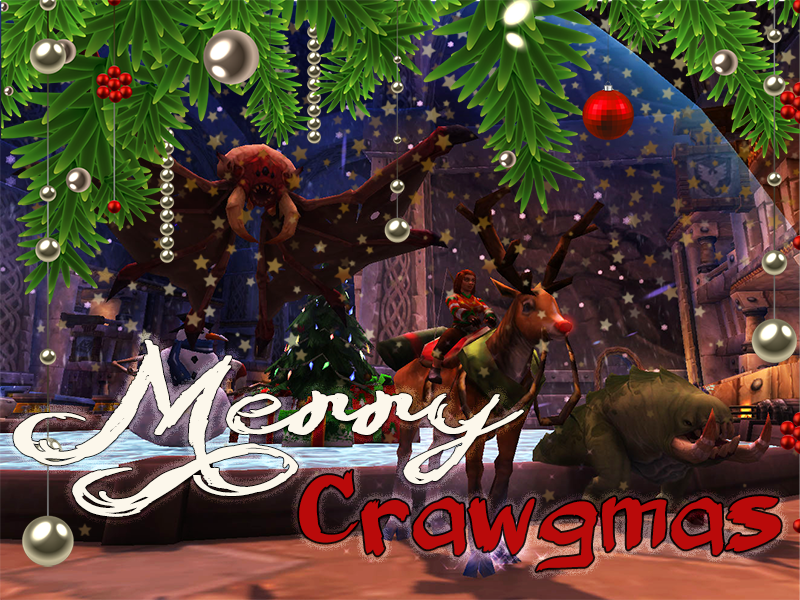 Attachments

Merry Crawgmas small.png (910.61 KiB) Viewed 39 times
---
Illustrious Master Hunter

Posts: 15973
Joined: Wed Jan 06, 2010 8:07 pm
Realm: Wyrmrest Accord US
Gender: Female
Location: Alberta, Canada
Merry Crawgmas!

If anyone's interested I started a #Crawgmas tag over on twitter where people have been sharing their screenshots and artwork. I know the hunt was frustrating but I hope people can still find a reason to smile with all the cute taming stories. :')
Last edited by
Vephriel
on Wed Dec 26, 2018 12:01 am, edited 1 time in total.
• Flight Rising lair
---
Awww, what a cute flying Christmas spider

Merrry Crawgmas!
Shaman avatar by Spiritbinder.
---
Master Hunter

Posts: 1100
Joined: Sun Oct 06, 2013 7:53 am
Realm: Moon Guard, Hati's Realm
Gender: Male
Location: Trueshot Lodge with Hati
Baby Spud says Merry Crawgmas to everyone and is happy his brothers and sisters along with ticks all have new homes.
---