Where the Wild Things Are in the Mists of Pandaria in Patch 5.2
(for information on the other 10 MoP rares, click here)
This thread is for factual information ONLY.
Please direct all other traffic to the discussion/speculation threads listed below.
Discussion/Speculation Threads:
General Discussion, Rants, and Raves
Dire Horns
Spirit Beasts
Non-Spirit Beasts/Dire Horns
Videos:
Overview:
http://youtu.be/o7FvGfmj3nE
Spirit Porcupines (Degu, Gumi, and Hutia):
http://youtu.be/LKikcuov0qQ
Dire Horns:
http://youtu.be/EOuvsqtZK3s
Zandalari Devilsaurs:
http://youtu.be/sbPumUUoda4
Fierce Anklebiters:
http://youtu.be/nu2ixi_NpvY
(
no longer tameable
)
Slateshell Turtles:
http://youtu.be/GsxZc3ZfDKI
Luminescent Crawlers:
http://youtu.be/nzS_-atZnoc
Stable Masters:
http://youtu.be/LyoNIGXtX0Y
Dire Horns:
Facts:
- Appearing under the "Creatures" header in the patch notes: "Dire Horns have been added as a tameable species for Hunters that have learned the required skill. Aspiring Dire Horn owners should seek out clues regarding these auspicious beasts." (
source
)
- A book "
Ancient Tome of Dinomancy
" will be required to learn how to tame them. The book can drop randomly from the dinomancers on the Isle of Giants. (
source
)
- All five colors of organic dire horns can be found on the Isle of Giants, on the north side of Kun Lai Summit. Orange is also located on the Isle of the Thunder King. Maps showing the isle's location and where each of the five colors can be found on the isle are in the related video.
- As of the first build, nothing in Un'Goro Crater has been flagged as a Dire Horn or otherwise tameable. (
source
)
Spirit Beasts:
Facts:
- Also appearing under the "Creatures" header in the patch notes: "Fite spectral porcupine fite! Three new spectral porcupine spirit beasts have appeared across Pandaria as tameable beasts, though taming them may provide quite a challenge." (
source
)
- The delayed spirit beasts of patch 5.1 have appeared!
- The spirit porcupines mark a return to the 4.2 challenge taming mechanics. They need to be kited until they reach 20%, like Deth'tilac, but there are no shortcuts to taking off chunks of their health.
- They also hit like trucks (especially Degu), so the tame beast glyph and deterrence are highly recommended for actual the taming part.
- They are perfectly visible in the open.
- They are marked as gold dragon elites and have a very short respawn timer (~10m).
- Dying to any of the three means a hefty run from the nearest graveyard. Degu is the worst, since you can end up resing as far away as Halfhill.
- Slows confirmed to work against all three: Concussive Shot, Ice Trap, Snake Trap, Binding Shot (including the stun). and Glaive Toss (unfortunately largely uneffective due to being such a small slow).
- Powershot's knockback works, but is largely impractical during a kite, due to having a cast time. Glyphed Explosive Trap does not work.
- Intimidation works, but would be difficult to pull off during a solo kite. The hunter would have to intimidate, heart of the phoenix, and abandon the pet.
- Mirrored Blades doesn't work on Degu, since his quills go through Deterrence.
- When tamed, they are larger than regular porcupines.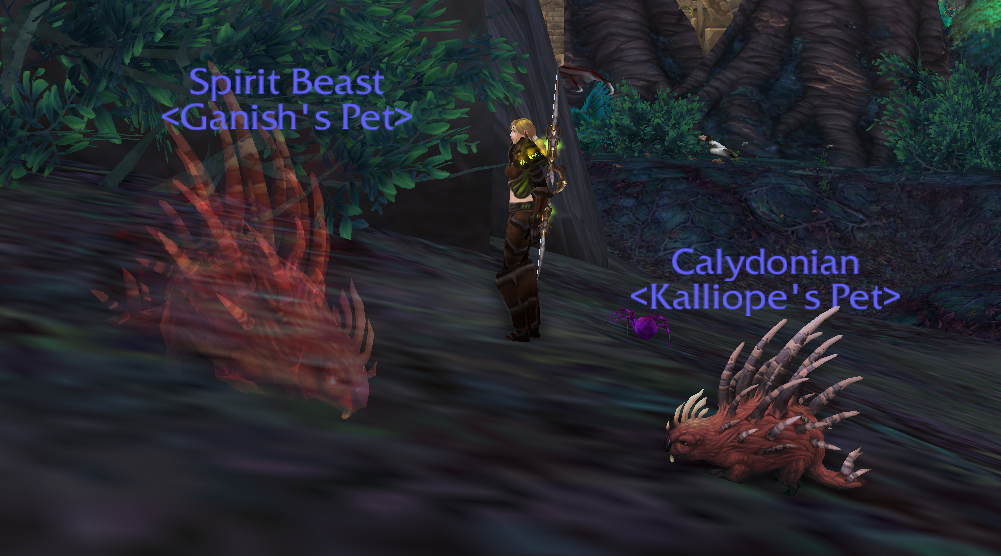 Degu: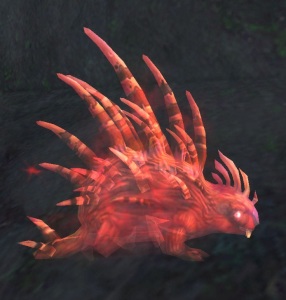 Zone: Krasarang Wilds
Challenge Mechanic: He throws barbed quills that hit for massive amounts of damage if you move too far away from him while kiting and destroys you in melee range. Thankfully, he also moves slower than his siblings. He needs to be kited in his dead zone, so the hunter is not hit by either the melee or ranged attack. Scatter Shot and Entangling Roots do NOT work on him. Of the three, he's the only one to move from his spawn point (which is, as marked, on the west side).
Map:
Gumi:
Zone: Kun-Lai Summit
Challenge Mechanic: He runs faster than his siblings and resides in the Kun-Lai Mountains. This means kiting him around the very rocky terrain before he enters the tameable range. Aspect of the Cheetah is a must. Scatter Shot and Entangling Roots do NOT work on him.
Map:

Hutia:
Zone: Jade Forest
Challenge Mechanic: She casts an interruptable heal while moving. Scatter Shot, Silencing Shot, and Entangling Roots work on her.
Map: