Well I loved the Name That Pet area so much Mazeku is coming back and this time with a whole new tale to tell for everyone.

As far as names go, Mazeku's information can actually be found on the website I've created for him found Here In fact, you can find a majority of information about his pets and things on there

though it hasn't been touched for AGES! So there's bound to be massive reworks coming soon when I can get the models and such loaded into Model Viewer. AHEM Anyway...

What I like for in names? Nothing stupid, silly or things like "Bacon" "Porkchop" etc. I like Serious names ONLY.

Types of names I enjoy?
Slavic Diety/God names (Czernobogg, Belobog, etc.)
Egyptian Names
Demonic sounds names
Hell Related names (Lucifer, Satan, etc.)
Animal God Names
Or other names related to those.

What I'm looking for in a name for this wolf would likely be something that would relate to Mazeku's father. A powerful hunter who (If you check the site) has quite a history to him.

I'm a slow player, and tend to play alone rather than in groups. I avoid those things for the most part and don't intend on traveling into the world of End Game things because it's not worth my time. As much as I'd enjoy to do those things I simply do not have the time to spend into them. Plus, my gear is epic FAIL!

About Me? I'm a story writer (As you can tell below) and I enjoy typing tales and stories that involve my characters. It's fun, and pleasuring at the same time! I'm also an artist (You can view my artwork on deviantart by searching By:TestimentHellen on there) and I well do a lot of things. Lately I've been more into games like Wolf Quest and The Endless Forest over Warcraft sadly ^^;;;;;;

~~~~~~~~~~~~~~~~~~~~~~~~~~~~~~~~~~~~~~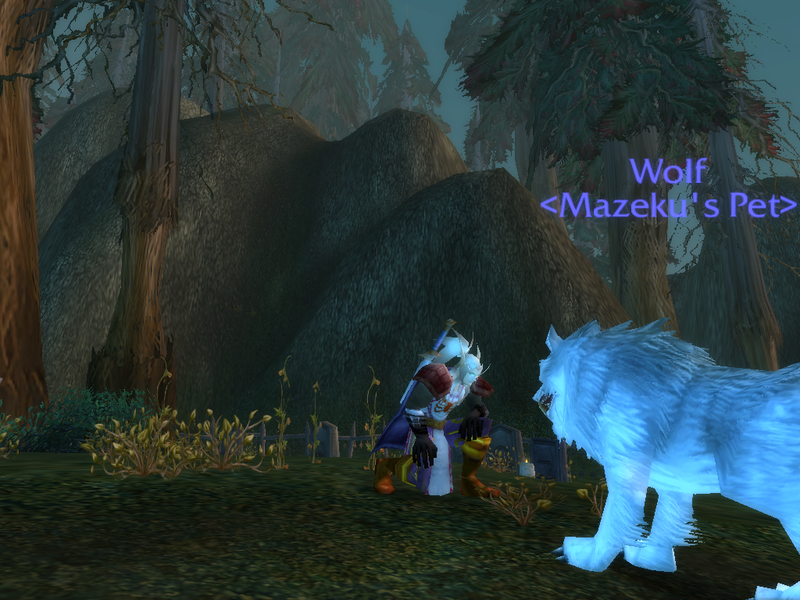 "A silent conversation... Father, can that be you in the mind of this shaggy beast before me?" - Mazeku

The Story

"As many know a tale is worth a thousand tales... and this tale is one of corruption and despair. Many know of Lord Mazeku, his passion for the red lynx that he has kindly named Luceat to cope with his horrid past returns once again this time... with a calling."

Mazeku has spent a while with his trusty companion Luceat, the two going on endless hunts together and working on their own fishing skills. Catching catfish and working on cooking them up for a tasty meal. Luceat has rarely, if ever left his Lords side since being tamed as a cub. Though this just recently changed... Lord Mazeku had a calling, SOMETHING somewhere was calling to him. Was it a beast? Was it some unknown human? Or maybe it was his long forgotten father whom passed on when he was a mere child.

This calling kept bothering him, at night he could barely sleep due to a throbbing head and a horrid dream. These dreams revealing images of a frozen wasteland, a lake... island in the middle with a pack of hungry wolves. One standing out as the apparent leader of the clan. And it was calling to him! Those molten yellow eyes of the beast boring almost into his soul... it felt eerie. As if some nature of evil was calling to him but he had to answer this call. What is this wolf was something corrupted that needed his help?

And thus, he said his farewells to Luceat, tending to him in the way a father would his own son before putting him into the stables. Much to his distaste... Mazeku tamed something that had caught his eye to be his eyes for this long trek. The elusive white bat known as Ressan... he hated bats but this white beauty seemed to have caught his eye. And through this taming his corruption slowly began. As bats to him were something of evil, something that reminded him of his mother and all things unholy his bat... named Ezekiel seemed to be feeding off of that. Slowly corrupting the young blood elf on his journey to Dun Morogh where he would meet this challenge. It was a blood bath at times, Ezekiel being his shield as he made it through the thickets of Hillsbrad where he went and took up the flight path for a moment, stopping at the inn for a nights rest and something to eat... making his way to the Arathi highlands.

Raptors upon Raptors seemed to storm the two, however Ezekiel pulled his job and the Blood Elf made it all the way to the Wetlands. This proved little trouble, save for the dwarves there. Those cursed things took every turn to thwart him for his goal. To Loch Modan he went after fighting off the dwarves and a gnome here and there. And finally... it turned to a blistering cold. This snow was new to him, you never saw Snow in the barrens or back from his home area of a lushful green forest. And through this... he followed the path, followed the calling of the beast and made it to that frozen lake he'd seen in his dreams and nightmares.

All the while Ezekiel had been feeding off his corruption, this calling eagerly feeding the blood elves fear of becoming something corrupted like his mother... becoming something like a warlock for a taste of the Fel Energy that everyone seemed to crave. And with this corruption he went through a phase... the call of the wolf had been great. And he went to the island he had seen it. And there the wolf was... Timber was his name, the wolves eyes boring into his as he slaughtered all around the island as they were sent at him. Sword covered in blood he saw the two starving wolves by the large dires side... was this why he was called? This mighty beast was falling prey to starvation? And that's when those two starving wolves of the dires came charging... Ezekiel's might of taking in all of Mazeku's emotions shot that built up energy of the bats into him... it felt like a Fel Energy boost which in fact it was. A minor one for the time being but enough to give the young blood elf a taste for what things were to come...

Taking out his two attackers his eyes met with Timber's and he casted Ezekiel to a side as if the bat was yesterdays trash. And slowly the chat began. Timber's mind focusing with his almost in a bonding ceremony before... SUCCESS! This white beast was tamed and by his side, giving the large dire several pieces of meat the wolf slurped them down like they were his source of life. In which case they were, the wolf seemed to be skin and bones at this moment but there was such a strong bond already that the Lord finally seemed to have found another friend to play with Luceat when he reached home. But there was that hunger, a craving for Fel Energy and all things magical burning in Lord Mazeku now. And this corruption might make things turn around.