Day 12

Chapter 5
She hadn't expected it to work out. It was clear from the very moment she revealed herself that Ilmatar would be decidedly against anything the Skydancer would say. And so she watched the departing copper-red form grow smaller as she flew away. So determined she had been that she was willing to attempt flight in a windless sky, powered only by sheer strength and the determination to remain free.
Saira let out a small sigh. Ilmatar's father was growing weaker. Construction and makeshift patching was constant to keep the lair skybound. Everyone was tired. Every claw and wing and paw and maw and tail was needed to make sure the Wind Whistlers' vision didn't come crashing into the waves along with the grand structure they'd worked so hard to create. And yet, even though she had been sent out to retrieve the runaway, Saira had done nothing to stop the Coatl in her bid for freedom.
Everyone deserves a chance to find what is right for them. We are of Wind and we need to thrive. We cannot stay still forever. Ilmatar is a good example. I only wish she would speak to her father one last time.
Lime-green eyes scanned the horizon until the last crimson glint that represented her charge disappeared into the murky clouds that had hung heavily in the sky, blotting out the cool blue and hazing the sun. One of many side effects caused by the ceasing of the eternal storm. "You may come out now." she said calmly, not looking around. Behind her a small bunch of bamboo saplings shook briefly, fell still. Seconds passed slowly. Saira coughed. A familiar slim black figure snaked out of the greenery.
The Spiral drummed his fingers together hesitantly, red eyes darting to find some object or other to hold his gaze that was not the Skydancer, a sheepish look on his long face. "Itwasanaccident." he squeaked, flinching from an attack that only existed in his hyper mind. Crystalline feathers rattled as Saira turned towards him, her beaked face blank. "I swear!" the charcoal-coloured serpent begged, voice breaking in panic. "I-I-I-I-I saw the Wildclaw a-a-and wanted t-to fix him! And she! She! The-the red one! She might have been infect too I only wanted to help!"
"And yet you caused the daughter of my clan's leader to suffer a painful mutation while her only friend perished." Despite the evenness of her tone Saira's words were coated in ice. Her small eyes narrowed dangerously.
"I didn't mean to-hoo-hoo!" The Spiral squawked, sinking to the ground and rolling in the grass like a beached eel. "I wanted to prove that Plague dragons can do
good
! I-I-I wanted to cure him! My people get such a bad rap cos of our experiments but
they're not all ba-ad
!" Letting loose a god-awful racket the red-eyed dragon slithered over to a bamboo tree, which he began banging his head against. "Stupid! Stupid! Stupid!" he cried at each impact, long horns leaving grooves in the plant.
Disgusted by the grovelling Spiral Saira looked away to gaze into the cloud-clotted skies once more. She set her jaw, attempting to blot out the wailing behind her. It did not work. Teeth ground together in frustration. The Spiral was likely barely out of adolescence yet behaved like a young hatchling. One who knew they'd done wrong and threw tantrums to make those around him notice and do something about it. Sai seriously wanted to blast him with another zephyr bolt at this point.
"ENOUGH!" The abruptness of the louder-than-expected command caused the spotted Spiral to squeak in fear, wrapping himself into a tight, living ball which rolled slightly to one side. "You." Saira growled at the scaly sphere. "Tell me your name."
The ball quivered and the long snout poked out from between his coils. "A-a-an-Anvi-Anvv-An-" The dryland drifter rolled her eyes impatiently as the squirming mess sputtered incoherently. "Vin. Vin! Call me Vin!" he managed finally, pushing his head out a little further to reveal his large eyes.
"Vin." Saira echoed and 'Vin' nodded furiously. "You wish to seek redemption for what you have done?"
Vin unravelled only to coil up in front of the creamy-gold dragon, spindly hands clasped together. "Yesyesyesyes!"
"Then you will help me bury him," she pointed at the familiar shape of the dark-scaled Wildclaw boy hidden behind a bamboo cluster on a lower pillar, "and then you will help me find Ilmatar."
Vin was up in a flash, shooting a clumsy salute. "Of course! Yes! I will!"
Saira nodded reluctantly at her new companion and they picked their way down towards the corpse. "Did you get his name?" she asked as they drew closer. "It would be more honourable to include it."
A pointed finger went up to the grey-black dragon's lower lip as he pondered. "Ahhh... Ahhhhh..." he sounded out the name the drugged Coatl had tried to say earlier. "Ahhyooo... Ayu? No no. Ahhhyyoooo... Ahyo? Aheeeo? Ahio? Ahio. ...Ahio?"
"It will do." the Skydancer finalised tiredly as she marked out a grave site. "Now dig."

Rage granted her strength as she flew... wherever it was she was going. She didn't know, didn't care. She simply wanted away from everyone. From everything. How dare she! How dare that... that...
pigeon
, that glorified
pigeon
demand she come home! After this! After what happened! Ilmatar slashed angrily at the clouds in her path, the force sending them scattering, forming a path for her to follow. The argument had been short, but heated. Not much was able to be recalled but she did not care. She was not going back home and that was that. Wind or no she would fly and fly and find a new place and new friends and new adventures... not be forced to smile and wave and show strangers around
her home
.
At least, that was what she'd hoped. Fatigue set in fast, from the events of the day and the exertion of flying through stagnant, still air. She had no choice. Matar landed on the first solid ground she saw, where she collapsed, panting. Stupid Spiral. Stupid pigeon. Stupid father. Stupid. Stupid. Stupid!
Even after she regained her breath the brilliantly-coloured Coatl lay flat on the grass, staring into space, thinking about nothing. She wanted nothing right now. Just to be. How long she was like that was any dragon's guess but it wasn't until a rattling sound broke through the mist. Hollow. Bones? Matar lifted her head only to groan inwardly as the familiar shape of a Skydancer came into view. Really? Already? She poised herself to run.
"Excuse me?" came a completely unfamiliar voice. Muffled, like there was something in front of their face. Matar froze as the figure came closer. Tan-pink feathers baring odd patterns. Pale cream and pink belly fur caught the light in a way that made it look glassy. A far-too-pointed face even for a Skydancer. Closer still. That wasn't a face.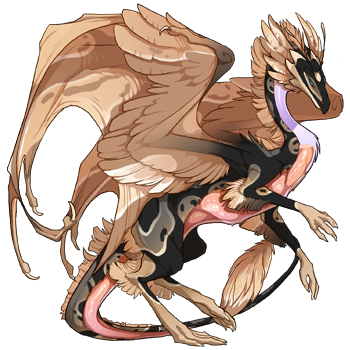 "Uhhh I was... just leaving! Sorry!" Matar blurted, dropping low to the ground and attempting to slink away.
A clawed hand waved. "No no! Wait, please!" the stranger wheezed from behind the mask. "I require aid! Or, at least a suggestion?"
The Coatl paused, stood like a cat caught trying to escape. Who...? Why...? "Um. Tell me where I am first?" she offered, followed by: "And who you are?"
"Right, right." came the muffled voice. The pale dragon set down a pack they'd been carrying, filled to the brim with their possessions. Something poked out of the flap, off-white, sickly. Matar studied it, then recoiled. A skull. A dog's skull. "Ah don't mind those." the voice came again, clearer this time. The Coatl glanced up to see the mask removed and the face of a blue-eyed Skydancer staring back. Lightning flight? "This is the southern edge of the Scarred Wasteland." She explained. Colour drained from the reptilian dragon. Too far north. "And I... Well, that doesn't really matter. What does is that I was looking for sources of power. Objects we can generate energy from. And how fascinating the wraith hounds of the Tangled Woods are! Spirit energy! Why hadn't anyone thought of that?" She pointed to the dog-like skull she'd disregarded only seconds ago.
"Riiiiiiight." Ilmatar replied with an awkward grin, feeling suddenly ill. "I really should-"
"No, please, hear me out!" the mottled bird butt in as she began rummaging through the pack, sending skulls and bones tumbling onto the hard soil. "Where is it? Where is- Aha!" With a triumphant flourish the stranger pulled free an ovular green object. Her eyes softened as she held it towards Ilmatar. "I found this poor thing on my journey back. I haven't the time to raise it myself but now that I've touched it who can say when it will hatch. Please, I need you to take it. If not for yourself then to somewhere safe. I simply can't with everything else I'm carrying!" Indeed a lot of the bones she'd collected was hanging from her neck, under her wings, tied to her tail...
An uncomfortable silence swallowed the pair as Matar's green eyes flicked between the Skydancer and the egg-like... egg. She said it would hatch, it had to be an egg. Right? The Coatl quailed, backing off. What was she supposed to do with an egg? And the only place she knew was the Wind Whistler lair and no way no way was she going there even to save an egg.
"I cannot take it with me." The Skydancer repeated pleadingly. "It will die if nothing is done."
A pang of guilt jabbed her heart and with it the empty void left by Ahio screamed. Her plumage swept back, hanging limp along her neck as sadness and grief and loneliness took hold. But it's an egg. How could she look after an egg? ...But she couldn't let it die. Matar continued to stare, eyes stinging with unshed tears. "...Okay." she said at last and reached out to accept the egg. "I have no clue how to raise a hatchling, but if the other option is to- Is to..." The sentence died on her lips as a warm streak ran down her cheek.
The Skydancer's eyes filled with pity as her antennae picked up on the red dragon's emotions. "I am sorry for your loss. Truly. May the little one bring you much needed joy." Carefully the fragile life was passed from one hand to the other. Matar found herself hugging it close, sniffling lightly. "You have done me a great favour." The stranger said gratefully as she repacked her bag and adjusted her mask. "Thank you. I wish you both well in your travels." Matar could only nod silently, the motion returned as the mask was brought down. "Farewell." And she was gone.
Ilmatar sobbed in the lonely mists, left alone once more. "What am I going to do?"