Chose to roll for coliseum instead. Rolled a 5 (Death Streak, oh boy) and rolled Acacia (AGAIN?!?!), Alstroemeria and Magnolia.
I was so worried I'd lose Merry here as she was the lowest level at lv6. Turns out my fears were unwarranted as... well, I'll leave this here: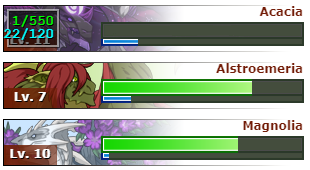 Aaaaaaaa-
Pinkerton seriously wants Acacia gone apparently. They all managed to survive however, so hah! As is shown, Merry is now lv7.