Themed Pet Challenge: Overview
Hey folks! I've had an idea for the last week or so about "pet themes." I'm going to do a new random pet challenge--the
single-pet
one is currently
up and running over here.
Basically, the idea is this: You tell me how many stable slots you have free to use for this, and I assign you a random "theme" set of pets to tame. There are a few different themes, and each might be assigned out more than once, but the individual pets will differ. Post a link to your char if you want something you think might match, or leave it out if you want something completely random! I might assign you a set of pets that feel Gothic, or a color theme, or a a theme of Reptiles etc, but the idea is to check out how your char meshes with them, to see how they "interact" thematically and, of course, to have some fun!
Some themed examples: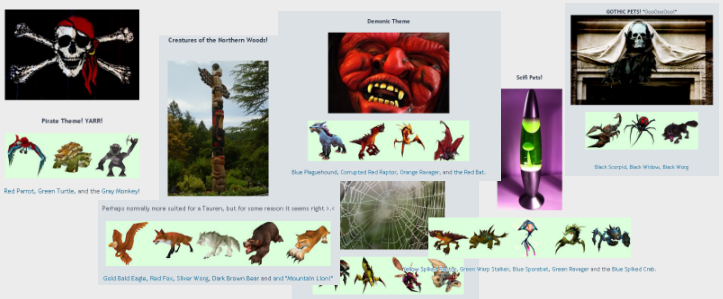 Rules:
* It will be hard to do too many of these at once. They will be even more time-consuming than single-pet assignments, so please,
ONLY ONE CHAR per person at any one time.
In other words, please don't list six alts and want an assignment for each

* I also have a set of themes in mind, so if I'm away for a day or two,
try not to get impatient and start filling in themes for others.
I'll let you guys know if it's time for others to take over the idea if I run out of time for this project!
*
DO take screenshots and post reviews.
A paragraph/screenshot per pet is awesome, although of course I can't require anything of you. But if I'm taking the time to give you a theme to try out, simply coming back and giving a sentence or two isn't worth it!
* If you have restrictions, post them in the form.
Please do NOT say "could you reroll pet X"
if it wasn't listed, and don't link to your entire Armory--I haven't the time to go through stables, sadly. If you've tamed the pet in the past, tame it again or post a review from memory.
* * * * *
How to Participate:
Post the following form for the character of your choosing.
Name & Level:
Exotics:
Yes/No
Pet Slots:
(how many slots you have free for this project--the average theme is 3-5 pets)
Restrictions:
Armory Link/Screenshot (Optional):
Additional Notes:
(Please also list themes you've already done if this isn't your first time)
I will post back within a day or two with a list of pets for you to tame and an explanation or name of the theme. Again, some themes will be reused, but the pets will cycle.
Tame each pet. Take screenshots of the pets, use them how you see fit--I'll try and assign a tank, DPS and PvP pet to each theme so you can use each in their optimal situations and review them. Come back here & give us the screenshots and a post about your experiences with the pets!
Some ideas:

* How were the individual pets' models? Were they appealing to the eye? Did they fit with your char & with one another? Were the resolutions/poly count up to scratch?
* How were the pets' animations? Running, idle, attacking, swimming etc?
* How were the pets' sounds effects?
* How did you find the pets to play with, utility-wise? PvP, PvE, soloing, tanking, whatever you used them for--what did you find good & bad about each?
* How did the pets look with your char, and with one another as a themed set, overall?
* You could make a costume with gear to fit the theme, take screenshots of yourself in it with the pets!
* You could take them to thematically-fitting settings and take pics there too.
* Anything else you think of!
That's all for now, I think! I'm looking forward to seeing how this goes