Screenshots?! NO WAY!
Anyway! My WAY overdue Jungle Theme report.
I was assigned a tiger, a river croc, a black monkey and a silver parrot.
All of them were named roughly after Aztec/Inca things. They're very, very, very bad names, but whatever.
1. Teotelecan, the tiger.
I quite enjoyed fighting with Teo. He was no better than my other six or seven cats, I admit, but he was pretty.
Model/Skin: The typical cat model isn't a favorite of mine. It looks a bit too low to the ground, with short legs and a funny looking tail. However, the saber model is one of my all-time favorites. I have a tiger saber already, so Teo felt like a miniature. The skin, however, I like a lot. Tigers seem lackluster at first, but they have beautiful eyes and very nice stripe details. They really glow in good lighting, too. Overall, a very nice, if not exactly sparkling, skin.
Sounds/animations: The sounds are a bit bland. Cat sounds. Roars, growls, more roars. Nothing too loud, nothing obnoxious, although I don't really like the "Auuuugh" sound they make after getting hit by a critical strike. The animations are nice, especially the run animation. Very smooth and fluid. Attacks are simple swipes, and idle are stretches. I like the stretch idle, although some people don't like the loud yawn that follows.
DPS/Tanking: I specced mine for pure DPS, and he was a pro. The special skill is quite nice, very useful if you lack a DK. Tanking was pretty good, but he didn't have an AoE taunt and was a bit squishy.
Overall: I have a LOT of cats, so Teo won't be staying. However, he did help me see my Shango in a different way.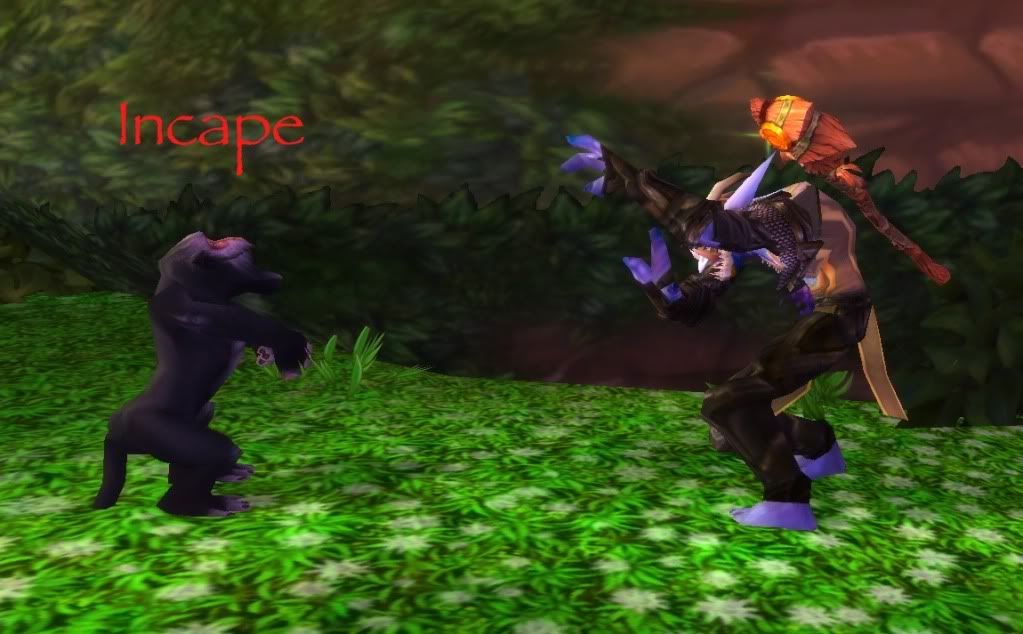 2. IncApe, the black monkey. (Oh gods, attack of the bad names!)
IncApe was almost named Incapable because I hated him so much. >.<
Model/Skin: Eeeewwww on both Model and Skin. The model is very blocky, most specifically the face and the tail. The tail is in clear segments that just look terrible, and the face is similar. As for the skin, it's okay, but the eyes creep me out. If it had better eyes, then I'd be able to tolerate it. The black coat is fairly appealing, at least.
Sounds/animations: Another Eeewwwwww. The sounds are very loud and very, very common. He doesn't shut up. Not for those who like quiet pets! The animations are so-so. Walking is actually pretty nice, a smooth walk with rolling shoulders. I think he gets confused on which way he's going when he runs though... His front half moves sideways and his back end moves forward. NOT fun. As for swimming, he sort of swim/floats, which is kind of disturbing after a while. He looks like a dead body in the water... His attack animations are okay, but his hands sometimes go through the ground or bend strangely.
DPS/Tanking: Erm, I didn't give him that much time. But he's a pretty good DPS pet, I admit. As for tanking, he's mediocre, but no worse than any other cunning pet. The special skill he has is pretty nice in a PvP perspective, but in PvE I didn't see that much in it.
Overall: IncApe is OUT. I really, really despise the Monkey model. However, I might give Gorillas another chance.
3. Quetzof, the river crocolisk
Model/skin: I really like crocolisks, model wise. They look big and lazy and fat, which is kind of adorable. I love their long, broad tails and flat heads. This skin, however, isn't really my favorite of the bunch. He's mostly various shades of blue-green, with a bit of gold thrown in. However, unlike the others, the gold on him seems dull and lifeless. Overall he looks... boring, somehow. Too many cold colors and not enough warmth. I do really like the big dark scales on his legs, though.
Sounds/animations: Many people have complained about the "Vader Hiss" and I can admit that it's pretty loud. I actually like it, though - it keeps me aware that I have a pet. >.< It is loud, and it's pretty common, so people who don't like loud pets probably don't want a croc. However, I'm used to it. Vall has the ghost hydra, and THAT is a loud pet. Animation wise, I have no complaints besides the jerkiness of the run animation. The attacks are nice, the swim is great. Very natural.
DPS/Tanking: I specced him full out tank, and tank he did. Very well, in fact. He's not a turtle or a beetle, so I still think of him (unfairly) as a "semi-tank", but he rocked. His DPS was okay, but not all there. As for his special skill... Another skill I can see being used in PvP, but not PvE. A slow isn't that useful unless you need to stop a fleeing mob.
Overall: While nice, I don't think I'll keep him. I have a ghost hydra as a tank, and I don't need another crocolisk.
4. Aztexica, the grey parrot
Model/skin: Very appealing. I very much approve of the parrot model, which seems very spunky and fancy despite its obvious age (Waaayyy too few Polys). The skin is one of my favorites for parrots, a very nice silver with sharp red accents. The silver, I noted, has "layers" of sorts. The base of each feather is dark, shineless grey, and the tips are bright, shiny grey. It makes him look like he has stripes despite being all silver - very nice in many lightings.
Sounds/animations: The parrot sounds can be annoying to some, I know. I like them myself, but again, I'm very tolerant to pet sounds (HISSSSSSSSSSSSSS!). Other than that, it's fairly quiet, and I like the squawks more than the owl sounds myself. The owls sound like rusty wheels, not owls! As for animations... That's one problem I have with this pet. His flap animation, as I've seen with all parrots, is unusually fast, like he needs to flap much faster to stay aloft. It's not that bad, but a bit annoying. Other than that, there's no problem. His attack animations are nice, swooping down to claw at the enemy, and his idle is simple. As for swimming, he uses his wings to propel himself through the water - very cute.
DPS/tanking: I'm not fond of cunning pets usually. However, he did pretty well overall. Nice DPS, and a nice tank - a good all-around pet. His special skill is fairly useful against some mobs, but not great for others... He's specialized. I'm sure Snatch would be great for PvP, but in PvE you really need to pick and choose when to use it. Darnit, I'm not good at that! xD
Overall: I really enjoyed this pet. I think I'll be keeping him at least for a bit, although I think Aotona will replace him once I recapture her. Or, I might keep them both.. The silver really is pretty...
Yay! That was very fun!

Another? :->
Vallrok, Horde
Level 80
Exotics? Sure
Stable Slots: 5 or 6
Restrictions: None - rare spawns and hard to get pets are fine!
Notes: Already have all the SBs I can get and almost all of the saber cats, but I'll happily report on those.