This just makes me sick. How much of the impact in queue times (if any comes out of this) will be due to more
competent
tanks? Also, how does this solve the problem that raids require a lower percentage of participants to be tanks than dungeons?
Finally, because he said it much better than I can manage (and in a more civil tone):
Spiritbinder wrote:
I may not be missing out on anything, but I still find it a tad sad that other tanks and healers in my place do get something desirable. Is it selfish, wanting to get the same options that others do?
All I can add is that I pay the same monthly subscription as someone whose main is a tank (or offspec tank, for that matter). Sure, we have accused Blizzard of giving one spec preference over another for years, but how fair it is to make such accusations is debatable; their goal is a more balanced game in PvE and PvP. But, overtly giving preferential treatment to certain classes...

_________________
AKA Nazthandol, in <Petopians> (US)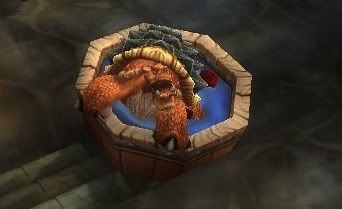 Cute doesn't need an explanation.
_____

Avatar by LupisDarkmoon, and image caption by Kurasu. Thanks!