This is my report on the pink Boss Silithid.

This Silithid is a Beastmaster only pet and can be found either as a rare in Tanaris or as a Boss in the Temple of Ahn'Qiraj.
I decided to go looking for the rare one first before asking my fiance to make a raidgroup with me. I got very lucky because Ainamiss the Hivequeen spawned right before my very eyes. The first encounter with this future pet of mine was a very unpleasing one. First thing: she was terribly huge and almost scared the heck out of me when she spawned. Second thing: her noises. She started crawling around her spawn point making terrible annyoing noises. Then I tamed her.
I named my new pet Blobby. I was uncreative and the bulky appearance with his wobbling head made me come up with this name.
First thing I noticed when Blobby was standing next to me: he doesn't match my transmog. Not at all. But this is a pet challenge, I reminded me and took him with me.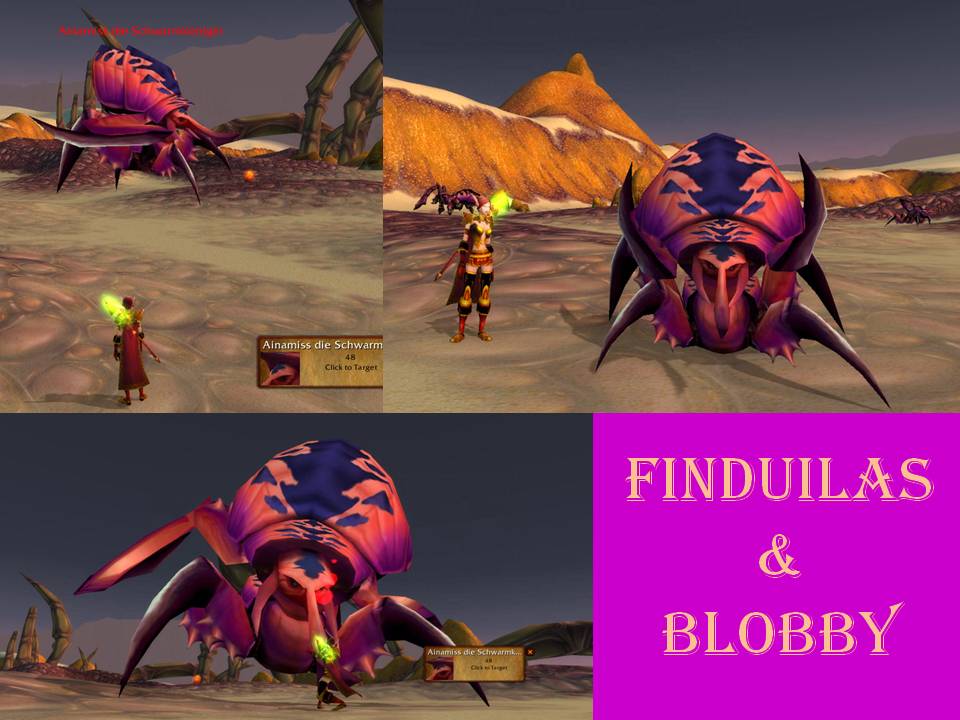 Appearance:
We went to Orgrimmar and I started examining his exterior. Blobby is a huge pet. At least compared to my bloodelf. His appearance is quite alien. A huge head with some kind of huge nose (reminded me of a trumpet

) and his legs look like razorsharp blades. The color ranges from a pink over orange to purplish blue as markings. I rather liked this shading, but it didn't match Findu. The back of his brain (?) has a chitinlike panzer. He stands on four legs and has two others folded at the side of his head (I think it is an other pair of legs).
Overall I din't like his appearance too much. He is so bulky while his small legs barely seem to support his weight and his huge head/brain was creepy for me.
Animations and Sounds:
An other pet with no swimming animation was my very first thought when I took Blobby for a swim with Findu. He was walking in the water like he did on the ground. Then I noticed something strange: his sounds. When walking on the ground he sometimes makes a hissing unpleasant sound, like complaining at having to walk, but under water his behavior changed. He kept complaining with each step, it was so unnerving I immediately left the water after having taken one screenshot. As soon as we were outside the water he was quiet again. So if you ever want a boss silithid: don't take him for a swim, he sure won't like it - and your ears will be greatful. His sounds were bugging me the most about this pet. A hissing cat with a bad cough sounds like a concert against Blobby's unpleasant sounds. Pet Emote was cracking me up with "Blobby rubs his front legs together making an unnerving rasping sound" YES! Sometimes I imagined I heard a "hump" sound, when I was tabbed out. He never made it when I was in the game, I made sure to be standing at a place with no other sounds, so it must be coming from him.
His idling animation is to look occasionaly from one side to the other or pushing himself a bit up only to slump back again.
His fighting animations are good. He uses his venom web first - this looks like the web of a spider with an unhealthy green, but has the same function: hold target in place. Then he uses his whole body and his additional pair of legs to shred the target. His attacking animations are so fast I had problems getting a good shot of it, but I tried to catch it at least a bit.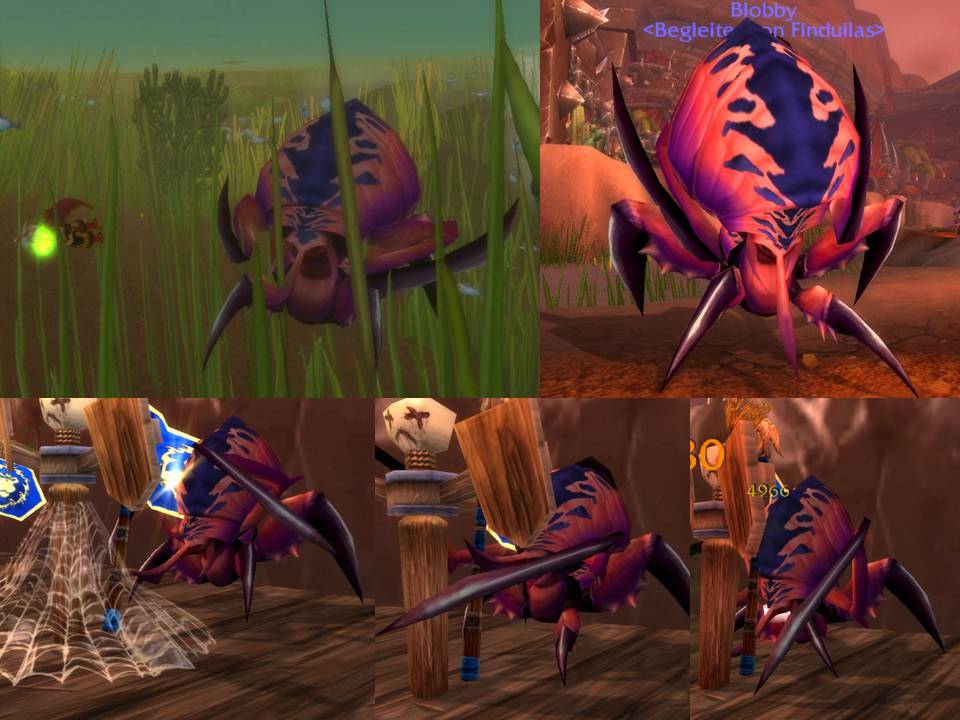 Utility and fighting:
I took Blobby on several "tests" with me. First we did the event boss for Love is in the air. The group had no priest and no warlock so his "Qiraji furtitude", a stamina buff, came in handy. His family belongs in the group of cunning pets so I didn't expect his dps to be very good. We did decent dps, but I decided an event boss is not real proof for this pet. Next I took Blobby to a few dungeons with me. His stamina buff always helped (we didn't have a priest in any of theses groups) but I had to force myself to keep Blobby out. His sounds were annoying me so much I was tempted to turn off the sound. Even when I was standing at maximum range of him I heard his sounds like he was standing next to me. His dps was okay, but I could easily pull more with a ferocity pet.
So I decided to take Blobby to a a battleground for a final test. There his web ability was very nice to have. He kept warriors or pally at a safe distance while (hopefully) annoying the crap out of them with his sound. But a spider would do the same job without the annoying noise (at least if you have none of these draenei spiders).
Conclusion:
Blobby is definitely no pet I like. His appearance is too strange for me and his sounds are bugging me too much. I might try a different Silithid model one day to have a stamina buff to help out groups and see if I like this one better. Although I have to say it was worth the try. I would have never gotten a Silithid otherwise and tried these pets out.
Next roll please:
Name: Finduilas
Level: 85
Exotics: yes
restrictions: no monkeys please
rares I have: a lot, but will review if one of them should be rolled.