Another insect I found. It's gonna be my pet until it's fully grown. When I was at my mom's apartment today and watering her plants while she's been away to Florida, I found a few of her smaller plants seemed to have been eaten up by someone. I looked around a bit and found a big caterpillar. Rather than killing it (why the heck would I do that?) or releasing it somewhere else so the rest of the mom's plants don't get eaten up, I took it home with me. Two reasons why I am keeping it. One, I remembered having fun with caring for caterpillars when I was in my early teenager age and watching them turn into moths or butterflies (most of the time, moths). When we used to have this tree near my bedroom window, it would occasionally be home to bagworms and then they were all over the place on the ground. When I babysat a few of them (I'd say the most I had was 36), I watched some of them turn into beautiful snow-white moths with a black speck or two on them. The 36 I had years ago, 27 reached cocoon stage, and before I accidentally dropped them in the grass while releasing some moths, I had about 20 or 21 moths. I hoped the rest I dropped transformed. Okay, second reason I'm keeping this guy is I am eager to see what it will transform into, either a moth or a butterfly after its sleeping stage. I can hope a butterfly, but anyway...
...only drawback is I have to clean up its stuff whenever it's done, if you know what I mean.
I hoped it would enjoy some romaine lettuce and now...it's already gotten around to the second piece of leaf I put in there. Just put a large third piece and I am sure it will be done with that before bed. It's stopped for now. Aside from watching out for predators, the life of a caterpillar has got to be the laziest life, which is what lots of us would like. Just eating and sleeping.

When I touched the caterpillar while pulling it off of mom's plant, it was like I was only half feeling it. The other half, it felt very smooth, soft, and squishy. Creepier than silk.
Here's the adorable, chubby caterpillar.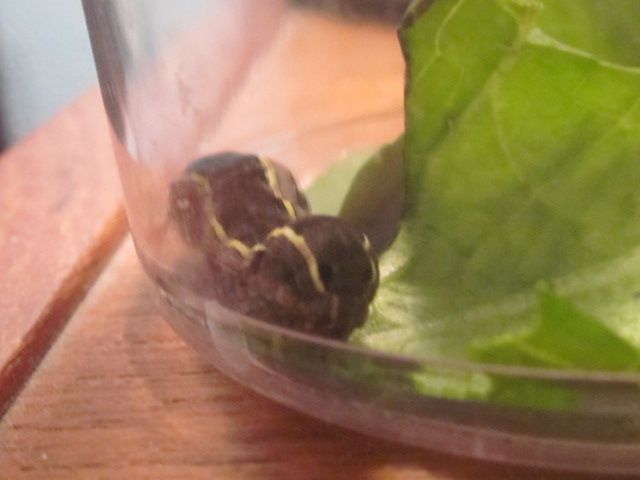 I will keep track here on the progress and see what happens to the caterpillar. Since I'm giving it romaine lettuce, which is nutritious enough, even more than iceberg lettuce, that should help it get the nutrition it needs. If it reaches adult, I will take some pics before releasing it outside.