WIP
I think Syleye & Tarn would agree with me: There just aren't enough skeletal guardian accents/skins. So I'm currently working on a dracolich-style accent. This is what I've come up with so far. It still needs shading and I plan to change the skull 'mask' a bit by adding some fangs/teeth and I may yet give the tail some bones or ridges. I also thought about tattering the wings a bit or adding more rib bones. Decisions, decisions...
Also, the color on this will match the apparel 'crown of bones', 'bone antlers', and the 'white birdskull' apparel.
Here's a preview of it on one of my dragons: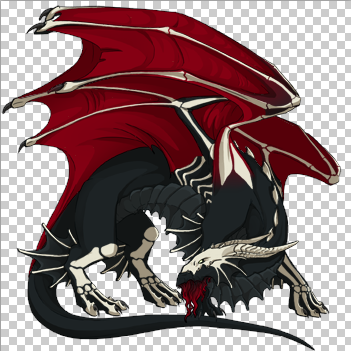 Feedback and suggestions are highly encouraged! So let me know what you think!

WIP - Take II:
Today I added skeletal tail bits, removed the old rib lines, added new ribs/spines, and edited detail to the skull area including another tooth. What do you think? Should I tatter the wings or add anything else or should I just go on to the shading stage and finish this? Feedback welcome!